How to Access Your ASA Online Journals: A Step-by-step Guide
ASA members receive online access to all journals (excluding section journals, which require section membership) at no additional charge. Members can access ASA journals online through the regular member portal. This includes access to the full available archive of issues of ASA journals from ASA's publishing partners, as well as the archive of ASA content available on JSTOR. Follow the steps below to take advantage of this member benefit and access this wealth of scholarly content today.
1. Log in at www.asanet.org using your ASA ID and password.
2. Once logged in to the member portal, click on "Access ASA journal issues (2004-present)" in the menu on the left (under Journals/Newsletters).
3. A new window will open with links to all ASA journals, as well as links to journals published by any sections you have joined. Click on a journal title to browse the full-text version of that journal.
4. You can access current, past, and OnlineFirst articles by clicking Browse on the menu bar to navigate to a specific issue in the archive.
5. Articles (and other content) are available in a variety of formats, including .html and .pdf. There are also links to the abstract, reprint permissions, citation marking, RSS feeds, and e-mail alerts.
6. To view content from ASA journals from 2014 and earlier, toggle back to the Member Portal welcome page and click the link Access ASA Journal Issues (2014 and earlier) on JSTOR in the menu on the left (under Journals/Newsletters). You will be directed to a page with a link to JSTOR.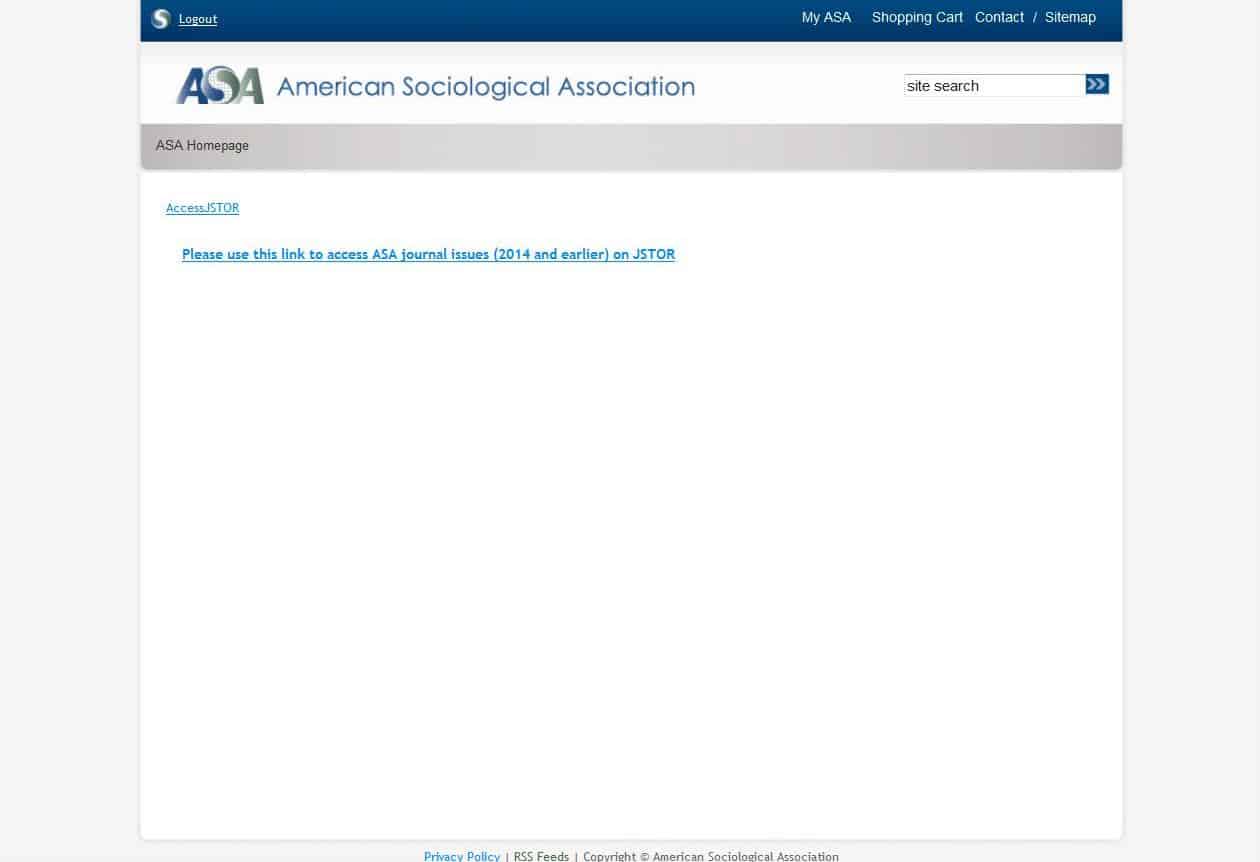 7. You will then be directed to the American Sociological Association JSTOR publisher page. Here you can click on an ASA journal title and explore the archive of ASA material through 2014.

As long as you are browsing journals published for ASA by a single publisher, you do not have to return to the list of journals for access. However, if you wish to switch to another publisher's platform, you will need to toggle back to the member portal menu to open a new list of journals.
In 2017, ASA's publishing partners, and the journals they print and distribute to members, are:
SAGE:
American Sociological Review
Contemporary Sociology
Contexts
Journal of Health and Social Behavior
Social Psychology Quarterly
Society and Mental Health (Mental Health Section)
Sociological Methodology
Sociological Theory
Sociology of Race and Ethnicity (Racial and Ethnic Minorities Section)
Sociology of Education
Teaching Sociology
Wiley-Blackwell:
City & Community (Community and Urban Sociology Section)
If you need additional information on how to subscribe or to access your journals, e-mail membership@asanet.org.