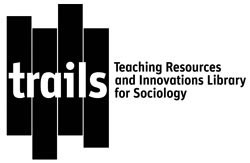 A vigorous discipline of sociology requires the creation of meaningful research knowledge and the training of professional sociologists able to pass on that knowledge effectively. In spring 2015, four ASA Department Affiliate institutions participated in a pilot project to integrate TRAILS, ASA's Teaching Resources and Innovations Library for Sociology, into their graduate teaching seminars. These leaders—Martha Thompson, University of Illinois Chicago; John Zipp, University of Akron; Jennifer Lundquist, University of Massachusetts-Amherst; and Howard Aldrich, University of North Carolina-Chapel Hill—took advantage of the opportunity to advance their own course goals while promoting the mission of TRAILS.
TRAILS launched in 2010 as a result of ASA support, an NSF grant, Sally Hillman's and Margaret Weigers Vitullo's leadership as well as the diligent efforts of then APAP Assistant Valerie Jiggetts. Thanks to the legacy of Hans Mauksch, Carla Howery, the ASA Section on Teaching and Learning, and the scores of authors, editors, and contributors to the Teaching Resources Center (TRC) materials, the TRAILS database went live with the digitized version of all 2,700 editorially reviewed TRC materials. Since then, over 275 new submissions proceeded through the two-tiered peer review process. Area Editors complete substantive reviews guided by the published criteria and the Editor completes a second review and confirms the final decision. At the end of 2014, there were over 1,100 subscribers and 95 submissions, a 64% increase over 2013. TRAILS is healthy. Endeavors such as the Graduate Teaching Seminar Project are part of the ongoing work to keep TRAILS thriving.
 This TRAILS project created the ability to let students do something with external recognition of their commitment to teaching. 
—Dr. Howard Aldrich, UNC Chapel Hill
The goal of the Graduate Teaching Seminar (GTS) Project is to increase the awareness of TRAILS among sociology graduate faculty and to engage graduate students beginning their professional teaching careers. Each of the four faculty incorporated a TRAILS assignment into their course syllabus, typically requiring the design and submission of a pedagogical activity or a syllabus. The 34 graduate students and the faculty members were given a complimentary one-year subscription to the library as part of the project. All the submissions received detailed feedback from the respective Area Editors, and a variety of resources have already been published.
Based on interviews with the faculty, a reading of the graduate student submissions, and of the Area Editor reviews, three themes emerge from the project thus far: 1) embedded TRAILS assignments promote learning about teaching; 2) it makes sense to incorporate the project at this stage of professional socialization, and 3) the involvement of TRAILS provides external validation of the work of graduate students, particularly, but not exclusively, for those new colleagues who will obtain jobs at teaching colleges and universities.
TRAILS in Graduate Seminars
Faculty members used different approaches to embedding the assignment, demonstrating the flexibility available depending on the specific course and instructor. One faculty member's students explored 3 to 5 versions of different activities before selecting one type of activity to develop; students then received peer feedback and did the activity in an actual class before submitting. A different faculty member constructed the opportunity simply as an expectation beyond what was already expected in a full course. Relatively little class time was spent on TRAILS projects directly (there was some peer review), but products were submitted independently. All faculty participants stated either a firm commitment or an openness to including the assignment again the next time the course is taught. As Jennifer Lundquist pointed out about her particular assignment, "I wouldn't have thought to do this (work) without the partnership with TRAILS."
When asked about the student feedback on the project, faculty report positive reactions; not surprisingly, students who had submissions published as resources were particularly delighted. Individual experiences varied but faculty report that most students found the database enlightening and useful. "The students would not have consulted TRAILS that much unless the assignment was part of it; they needed to do it and were stunned at some of the things they found that had already been done," said John Zipp. Martha Thompson noted, the assignment "helped them see the importance of a collaborative community of teachers, not just individual enterprises." She also expressed that her assignment was a lot of work for students. While a small number of students learned from the experience of having a submission rejected, most students participated in the revise and resubmit process.
Of course, the project was also designed to benefit TRAILS. We are eager to increase the visibility and utility of the database for all sociologists who teach. Incorporating TRAILS as a component of a professional identity as a scholarly teacher fits with sociology's long-standing commitment to teaching and learning. By working with graduate students at this stage of their career, we garnered topics and activities that are especially current and innovative. Examples include: Carla Ilten's (UIC) media activity "Watching the Culture Industry at Work: Super Bowl Commercials as Cultural Products"; Struther Van Horn's (U of Akron) resource on "Identifying Sociological and Psychological Perspectives on Mental Illness"; David Rigby's (UNC) "Linguistic Ideology, Fallacies of Racism, and the Construction of the Racial 'Gaffe'"; and Ember Kanelee's (UMass) "Throw Like a Girl" Challenging and Unpacking Modern Day Gender Norms within Sports."
As Editor, my aspirational goal with the GTS Project was/is that TRAILS is incorporated in some way in every graduate teaching seminar in sociology, both in the United States and abroad. Whether used as a unique database for specific ideas and getting the lay of the pedagogical landscape or for adopting techniques as new teachers who are informed by scholarship, not just experience or for publishing original pedagogical work that strengthens a teaching portfolio, integrating TRAILS as part of career socialization (whether teaching only graduate students at a flagship university or in a small liberal arts classroom) benefits the discipline. Thank you to these leaders and graduate students and welcome future participants. Research of discovery, the scholarship of teaching and learning, and scholarly teaching all contribute to a vibrant and evolving intellectual field.