Over the past 10 years, faculty salaries in sociology, anthropology, and political science have been comparable, while economics salaries have been consistently higher, according to data collected by CUPA-HR, the association for Human Resources professionals in higher education. 
After adjusting for inflation, the data show that after several years of decline, salaries across the disciplines saw a slight rebound between AY 2018-19 and AY 2019-20. Salaries in sociology increased by 1 percent to $85,072, virtually making up for the loss experienced from the previous year.  Economics experienced the most growth, but only by 1.75 percent. Additional comparisons of sociology salaries—by rank and institution types—are available on the ASA website.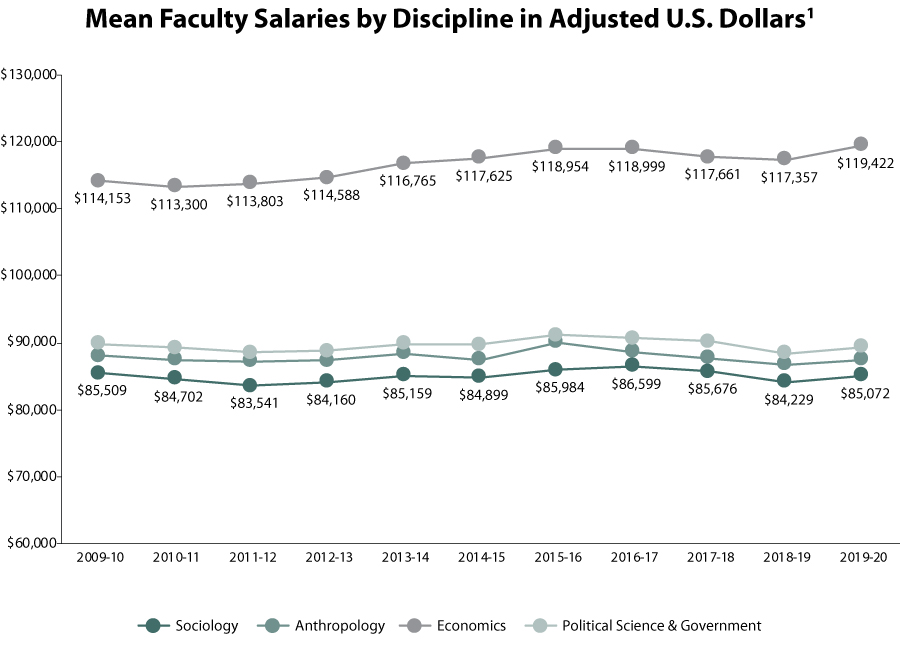 1Average salary of full-time assistant, associate, and full professors at 4-year institutions; 'Adjusted U.S. Dollars' were calculated for inflation using the 2019 Consumer Price Index. 
Source: College and University Professional Association for Human Resources (CUPA-HR). Faculty in Higher Education Survey, 2009-2020. Analysis by ASA.