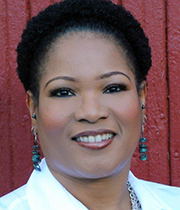 In the early days of COVID-19's wrath, Detroit was a hot spot. Black Detroiters were disproportionately impacted, especially those most vulnerable due to pre-existing, diet-related illnesses. The city's health-care system was unprepared and unable to manage the influx of patients in need of life-saving medical care. Lack of access to equipment and medical personnel in an under-resourced community created a preventable catastrophic event devastating to the Black community. Historical disinvestment and lack of access to preventative health care and nutrient-rich foods was the fuel and the virus was the fire.
At the same time, the virus exposed the vulnerability of the nation's food supply. Farm laborers, food processers, and those employed in food distribution were hit especially hard. The nation saw bare grocery store shelves and declared store clerks to be essential workers. These jobs pay minimum wage, are physically demanding, and often employ those who are impoverished and vulnerable. Food systems' workers have always been essential. 
In this environment, Black Detroiters drew strength from the city's rich history of urban agriculture and African Americans' long history of food production as a strategy of community health and wellness. While some are willing to talk about Detroit as a city that was—one ready for autopsy, food justice voices in Detroit declare the city to be compost—a rich soil for organizing, cooperation and mutual aid. 
Based upon their years of organizing in food policy, security, and sovereignty, members of the Detroit Black Community Food Security Network (DBCFSN) took action to ensure residents in Detroit would have access to nutrient-rich foods during quarantine. While not everyone accepted the new COVID-19 protocol, members and volunteers continued to work the 7-acre, organic farm known as D-Town Farm, the largest of Detroit's many gardens and farms. They started a seed-sharing program, distributing packages containing 6 to 10 common vegetable seeds and video tutorials detailing how to start a garden. The members collaborated with Alkebu-lan Village, which provides educational, cultural, and recreational programs to Detroit youth and their families, to create a raised-bed distribution of 4' x 4' garden beds, compost, and topsoil to 100 Detroiters. Oakland Avenue Urban Farm and DBCFSN teamed up to provide safe, curbside, contactless sale and produce pick-up through a joint online ordering platform. 
The food-based resilience practices of DBCFSN, Alkebu-lan Village, and Oakland Avenue Urban Farm can be traced to African women braiding rice and other seeds in their hair before enduring the Middle Passage and demanding access to small plots of land to grow foods from their homelands and other crops. These provision grounds or "slave gardens" became an ongoing strategy of resistance and survival, providing nutrient-rich food to supplement the meager diets enslavers were willing to supply as well as products that could be bartered, sold, and traded between enslaved people. New Orleans retains the memory of the marketplace at Congo Square, where enslaved Africans shared music, religion, and food on Sunday—the only day when enslaved people did not toil sunup to sundown. 
Denied the 40 acres and a mule that should have been the least of their compensation for centuries of drudgery, dehumanization, and endurance, Black farmers organized collectives and cooperatives throughout the south after emancipation. Among the largest, the Colored Farmers' National Alliance and Cooperative Union, brought together the meager earnings and the wealth of farming expertise of 1.2 million Black farmers. With trading posts in every southern state, members pooled resources to ensure freed people would eat in a society reluctant to give them the tools to survive. 
Food Justice
Civil rights and social justice organizations have engaged in what we now call food justice since emancipation. They viewed healthy food access as an important strategy of a healthy Black community and as a way to be liberated from social, political, and economic oppression. Marcus Garvey viewed Booker T. Washington as a mentor and was committed to including agriculture in the form of "industrial farming" as a strategy for the Universal Negro Improvement Association, the largest political movement in African American history. 
The Nation of Islam (NOI) pursued food justice programs to educate the Black community about the importance of health and well-being in food consumption. NOI's Farms held 13,000 acres in Georgia and Alabama and supplied food through the organization's distribution arm, Salaam Agricultural Systems, which owned grocery stores and restaurants in predominantly Black neighborhoods and ensured that members of the organization, as well as community residents, could feed their families healthy food. The Black Panther Party sponsored free breakfast programs in predominantly Black cities that were wildly successful and that are credited as the precursor for today's public school breakfast and lunch programs. These organizations recognized the importance of healthy food access and demonstrated that self-provisioning is critical to and an essential part of a liberation framework.
Access to public accommodation—the direct-action campaigns such as sit-ins and boycotts at the establishments that denied Black people service—have been better remembered as strategies of resistance in social movements. The fact that they are also forms of what we now call food justice has not been emphasized. In addition to refusing to vacate lunch counters, civil rights activists demanded an end to hiring discrimination and that supermarkets and grocery stores hire Black employees. The lens and language of food justice brings these strategies together and unites them with the work of DBCFSN, Alkebu-lan Village, and Oakland Avenue Urban Farm. 
Black intellectual traditions that paid particular attention to the importance of agriculture as the cornerstone of Black community development complemented these applied approaches for food security, sovereignty, and increased healthy food access. These traditions can be attributed to Booker T. Washington, George Washington Carver, and W.E.B. Du Bois—three "race" men who, over a century ago, led the Black community's understanding of agriculture as a strategy of community self-sufficiency and community resilience. Each was a crucial translator of what we now call food justice. Each drew on the legacy of places like Congo Square. Each contributed to our engagement with agriculture, what the community knew, and the connection to what people needed in order to build community health and wellness.
Tuskegee Normal and Industrial Institute
Before establishing the Tuskegee Normal and Industrial Institute, Booker T. Washington traveled by horseback throughout the Alabama Black Belt—an area known for the richness of its soil and the predominance of Black people among its residents. In what we now call fieldwork, Washington sought to incorporate the needs of Black farm families to shape Tuskegee such that it would support the self-sufficiency of its students, their families, and the broader community. 
The resulting curriculum sought to cover everything needed for survival, including training in 33 different trades that spanned agriculture, horticulture, livestock, and dairying. The school had a student-run farm that was 2,300 acres by 1915, producing enough food for the faculty, staff, and students and bringing the excess to a farmers market that fed many area families. Students who learned these skills and trades returned to their home counties, where they farmed and purchased land. Many started Tuskegee-like educational institutions. The proportion of land owned by Black people was highest in the country in the counties where these institutions were located.
Tuskegee is also the birthplace of Black cooperative extension. It began when the U.S. Department of Agriculture (USDA) sent demonstration agents to the South to address a ravenous boll weevil infestation that was destroying the cotton crop, therefore threatening the entire southern economy. For years, white agents ignored Black farmers and land workers, but Washington referred Tuskegee alum Thomas Moore to the USDA, and he became the first Black field agent in 1903. Black farmers in Macon County, where Tuskegee is located, learned to control the boll weevil and other important agricultural lessons from Moore. 
George Washington Carver taught at Tuskegee for almost 50 years. Most often remembered for his inventions with soybeans and peanuts, Carver was actually the founder of sustainable agriculture as we now know it. Affectionately called the "poor man's scientist," Carver committed his scholarship to improving the lives of Black farmers by making sure they had the means to provide nutritious food for their families during and after the growing season. He often referenced the medicinal value of the daily consumption of fruits and vegetables, a clear connection to food justice. 
In support of sustainable agriculture practices, a contemporary marker of the food justice movement, Carver's inventions and experiments provided findings in support of the importance of crop rotation, composting, and the use of cover crops to protect arable land. The findings of his experiments were distributed near and far in a regularly published pamphlet through the agricultural experiment station. One of the most visual examples of meeting the "farmers in the field" is Carver's work with the moveable school. Instead of expecting farmers to travel to Tuskegee, both Washington and Carver met Black farmers where they were. Supplied with state-of-the-art, hands-on equipment, these mobile schools demonstrated a variety of farming techniques, including animal inoculation and best farming practices to maximize yield while protecting the health and productivity of the soil.
W.E.B. Du Bois' legacy in food justice has been even less remembered than Washington's and Carver's. He, in fact, did extensive work on the liberatory capacity of economic cooperatives and their development. His work offers us one of the earliest articulations of a systems analysis. Du Bois suggested that while Jim Crow segregation was the law of the land, African Americans would do well to create a systems approach, based on food production, that would allow one sector of the Black community to provision the needs of the others. Du Bois said that Black people could achieve "economic independence" by "letting Negro farmers feed Negro artisans, and Negro technicians guide Negro home industries, and Negro thinkers plan this integration of cooperation, while Negro artists dramatize and beautify the struggle."
Fannie Lou Hamer
These intellectual contributions to the importance of Black agriculture as part of a freedom strategy, these early articulations of a food justice frame, reached their greatest expression in the work of Fannie Lou Hamer. After many in her community, Sunflower County, MS, had been evicted for seeking to participate in the political process, Hamer established Freedom Farm in 1969. At its peak, the farm was 680 acres of affordable housing, community gardens, commercial kitchens, community kitchens, food preservation and preparation, cooperative purchases, and many acres of food crops—all familiar to today's food justice work. 
Freedom Farm produced thousands of pounds of produce, 10 percent of which went to the "food bank," a poverty amelioration program to serve the needs of those most vulnerable. Cash crops were sold for land mortgage payments. Freedom Farm represented a commitment to mutual aid, community care, and engaging food production and distribution for communities often excluded from the nutritious food supply. They fed and employed many, showing on the ground that, as she once said, "with a pig and a garden, no one can tell me what to do."
What stands between Freedom Farm and D-Town Farm is five decades and thousands of miles. However, what connects them is the belief in the connection among land, food, and freedom. Hamer's demonstration of agency in knowing that food was necessary for political, social, and economic participation and freedom has been an inspiration to today's generation as they turn to food production, provisioning, and community care as strategies of survival in a time of neglect and crisis. 
Black tenant farmers and sharecroppers who were evicted and fired for registering to vote, and laid off and unemployed autoworkers in Detroit whose labor was rendered no longer useful both participated in and established a community-based food system as a strategy of resistance and resilience. These origins and examples of food justice have been overlooked and overshadowed. Yet through the generations we have understood that, as Rev. Wendell Paris, a generational Black farmer and organizer of a Black agricultural cooperatives for decades, says, "You can free yourself, when you can feed yourself." 
As the COVID-19 pandemic rages on, we will draw strength from these examples of collective agency and community resilience for this newest assault, remembering our ancestors and their model of resistance. 
Any opinions expressed in the articles in this publication are those of the authors and not the American Sociological Association.