Contemporary Philadelphia is known for many things: cheesesteaks, cream cheese, the
Rocky
movie franchise, that
Always Sunny
television show, and its many universities. In scholarly circles, it's renowned as the cradle of American history. But the city—the site of the upcoming ASA 2018 annual meeting—is perhaps less known for its longstanding influence on criminal justice systems worldwide. 
Founded in 1787, the Philadelphia Society for Alleviating the Miseries of Public Prisons became the first prison reform association in the world. The late eighteenth century was an important turning point for American prisons, which were starting to be used for punishment after a history of mostly serving as temporary detention centers for those awaiting trial or sentencing. Until that time, punishments for convicted criminals mostly involved fines, physical pain, and public humiliation (e.g., whippings, the stocks or pillory, banishment, and capital punishment at the gallows). The reform group developed out of growing concerns over the model dominating U.S. prisons at the time. Known as the "New York system," it was based on the traditional English workhouses and emphasized rehabilitation through hard labor. The Philadelphia reformers viewed the model as both inhumane and ineffective for rehabilitation. Thus, the group initiated an experiment the following year at the city's Walnut Street Jail, establishing 16 solitary cells to test a theory that perpetual solitude would lead to deep personal reflection and genuine penance (hence, the term penitentiary). The idea was somewhat sociological, in that proponents of the "Pennsylvania system," as it came to be known, believed criminal behavior was mostly a result of environmental factors. The notion that eliminating interaction among inmates would be the key to their reformation, however, seems to overlook the role of normative interaction in the resocialization process. 
Once the jail experiment was deemed a success, it laid the groundwork for the later construction of Eastern State Penitentiary, the world's first true penitentiary. When the prison opened in 1829, it was a remarkable—and formidable—structure. It covered 11 acres on the then-outskirts of Philadelphia, with stone walls 30 feet high and 10 feet wide, and an innovative radial design that was subsequently used as a template for hundreds of prisons around the world. It housed hundreds of solitary cells that inmates rarely left, ensuring that they would have no contact with another person. At the time, Eastern State was one of the largest and most-expensive buildings in the United States. Visitors from all over the world came to see it, including Alexis de Tocqueville and Gustave de Beaumont, who praised the prison and the philosophy behind it (Beaumont & Tocqueville, 1833, p. 23):
… (I)f it is true that in establishments of this nature, all evil originates from the intercourse of the prisoners among themselves, we are obliged to acknowledge that nowhere is this vice avoided with greater safety than at Philadelphia, where the prisoners find themselves utterly unable to communicate with each other; and it is incontestable that this perfect isolation secures the prisoner from all fatal contamination.
Eastern State remained in operation until 1971, subsequently falling into disrepair for years until it was preserved as a historical site in the early 1990s. It officially opened for daily tours in 1994 and remains a popular attraction today (see www.easternstate.org and follow its fascinating tweets at twitter.com/easternstate). Besides touring the historic prison, visitors learn from the rotating exhibits focused on criminal justice reform and social justice issues. Eastern State's current exhibit, "Prisons Today: Questions in the Age of Mass Incarceration," is of particular interest to sociologists, as well as its monthly Searchlight Series (free and open to the public), which features discussions about contemporary criminal justice issues. The prison is located in the Fairmount neighborhood, about five blocks northeast from the Philadelphia Museum of Art. Those visiting Eastern State may also enjoy a visit to the Crime and Punishment Brewing Co. (crimeandpunishmentbrewingco.com), about a mile north of the prison in the Brewerytown neighborhood. Themed beers include Indecent Exposure, The Guillotine, and House Arrest.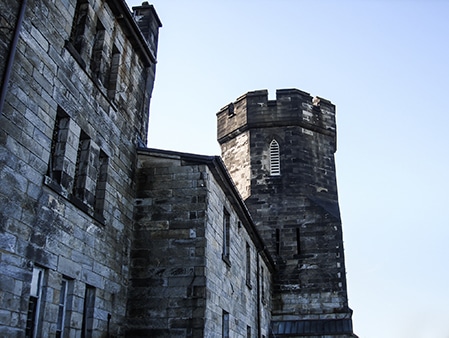 Philadelphia's prison reform group is still active today as the Pennsylvania Prison Society (
www.prisonsociety.org
). The society's mission is threefold: to provide oversight and advocacy, to arrange prisoner visitation, and to provide assistance to newly released prisoners (Johnston, n.d.). In particular, volunteers work toward systemic policy change, respond to the interests and needs of inmates and their families, and provide resources for current and former prisoners to help them successfully return to their community. The society also maintains a network of volunteers who visit inmates throughout the Commonwealth, often serving as their only outside contact. In addition, Philadelphia is home to the Clery Center (
www.clerycenter.org
), founded in 1987 by Connie and Howard Clery to promote safety on university campuses after the rape and murder of their daughter, Jeanne. The associated Clery Act, which was signed in 1990, is a federal statute that requires all institutions of higher education that receive federal financial aid to record and disclose information about campus crime. 
An exemplar of the city's ongoing commitment to innovative solutions is Mural Arts Philadelphia (www.muralarts.org/tours). Now in its 30th year, it is the largest public art program in the United States. Started as part of the Philadelphia Anti-Graffiti Network in an effort to redirect the energies of graffiti writers into constructive public art projects, it has successfully promoted restorative justice, community engagement, and economic revitalization in the city. Tours of the unique outdoor art gallery are available by foot, trolley, train, and Segway most days of the year (and often sell out).
The city remains a leader in criminal justice reform efforts. In 2016, the City Council ordered a Special Committee on Criminal Justice Reform to dismantle the school-to-prison pipeline and establish policies to reduce crime and recidivism. In one of its initial acts, the committee released recommendations for juvenile justice reform (Special Committee on Criminal Justice Reform, 2016). In late 2017, Philadelphia voters elected progressive civil rights lawyer Larry Krasner to be the city's next district attorney, despite his complete lack of prosecutorial experience. As a defense attorney, Krasner represented—pro bono—activists with Occupy Wall Street and Black Lives Matter, and he has sued the Philadelphia Police Department at least 75 times for alleged civil rights violations (Feuer, 2017). As part of his platform, Krasner promised not to seek the death penalty in any case, to abolish money bail, and to send those struggling with substance abuse to treatment programs instead of prison.
Philadelphia is not only a captivating place to visit, but it should be a particular draw for sociologists. The city has played a longtime role in shaping national and international penal systems and policies, and it remains at the forefront of movements for social justice and prison reform. Eastern State Penitentiary exemplifies the city's historical criminal justice significance, while Mural Arts Philadelphia demonstrates a longtime dedication to social justice issues. 
References
Beaumont, G., & Tocqueville, A. (1833). On the penitentiary system in the United States and its application in France. Philadelphia: Carey, Lea & Blanchard. 
Feuer, A. (2017, June 17). He sued police 75 times; Democrats want him as Philadelphia's top prosecutor. New York Times. Retrieved from https://www.nytimes.com/2017/06/17/us/philadelphia-krasner-district-attorney-police.html  
Johnston, N. (n.d.). Prison reform in Pennsylvania. The Pennsylvania Prison Society. Retrieved from http://media.wix.com/ugd//4c2da0_41bed342ea390827839e1ffa4b3dca97.pdf
Special Committee on Criminal Justice Reform. (2016). Interim report: Summer of 2016 youth action plan. Retrieved from http://phlcouncil.com/wp-content/uploads/2016/06/Criminal-Justice-Reform-Report_5-23-16_COLOR-MOD.pdf