Officers
Section on Latino/a Sociology
---
Section Officers
Chair: Zulema Valdez, University of California Merced

Dr. Zulema Valdez is Associate Professor of Sociology at University of California, Merced. Her research and teaching interests include racial and ethnic relations,, intersectionality, Latino/a sociology and economic sociology. Her research examines how social group formations (based on race, class, gender, nativity and the like) affect the social and economic life chances of American workers and entrepreneurs. She has been the recipient of grants and fellowships from the Ford Foundation, the National Science Foundation, and the Social Science Research Council. Her work has been published in social science journals including The Sociological Quarterly, Journal of Ethnic and Migration Studies, Social Science Quarterly, and is featured in several edited volumes. She is the author of the book, The New Entrepreneurs: How Race, Class and Gender Shape American Enterprise (Stanford University Press, 2011). She is currently working on a second book project that examines the household economy of mixed status Mexican-origin families from an intersectional perspective. 
Chair-Elect: Julie Dowling, University of Illinois at Urbana Champaign 
Past Chair: Ed A. Munoz, University of Utah
Dr. Ed A. Muñoz is Associate Professor of Ethnic Studies and Sociology at the University of Utah where he is also the Director of the Ethnic Studies Program. In general, his research expertise deals with the Latin@ experience in the  Midwestern and Inter-Rocky Mountain regions of the United States. With regards to his criminal justice research agenda, he examines how racialization processes impact criminal justice outcomes for minority populations.  Most recently, he is involved in a project investigating Latin@ attitudes and perceptions of proposed immigration reforms. A longer term project is a socio-historical analysis on the construction of Latinidad in Wyoming dating from the 16th century and into the 21st century.
Secretary-Treasurer: Edward Orozco Flores, University of California Merced
Council:
Leisy Janet Abrego, University of California Los Angeles (2015)
Dr. Leisy Abrego is Assistant Professor in the Department of Chicana and Chicano Studies at UCLA. Her work explores the lived experiences of U.S. immigration policies. Her first book, Sacrificing Families: Navigating Laws, Labor, and Love Across Borders (Stanford 2014) is about Salvadoran transnational families' economic and emotional well-being.
Roberto G. Gonzales, Harvard University (2015)

Dr. Roberto Gonzales is a qualitative sociologist whose research focuses on the ways in which legal and educational institutions shape the everyday experiences of poor, minority, and immigrant youth along the life course. He is recognized as one of the nation's leading experts on undocumented immigrant youth and young adults. Over the last decade he has been engaged in critical inquiry regarding what happens to undocumented immigrant children as they make transitions to adolescence and young adulthood. He is currently engaged in two projects aimed at better understanding the effects of the Deferred Action for Childhood Arrivals (DACA) Program: the National UnDACAmented Research Project, a longitudinal study to assess the effects of widened access among undocumented immigrant young adults; and a companion study to assess DACA implementation in schools and community based organizations. He is also carrying out a comparative study of immigrant youth in the U.S. and the UK. His work is being supported by MacArthur, Irvine, and Heising-Simons Foundations. Gonzales serves on the editorial board of Social Problems and the City of Chicago Office of New Americans Advisory Board. He is currently completing a book manuscript based on his 10 year study of undocumented young adults in Los Angeles. Prior to his faculty position at the Harvard, Gonzales was on faculty at the University of Chicago and the University of Washington. He received a B.A. from Colorado College, an M.A. at the University of Chicago, and an M.A. and Ph.D. in sociology from the University of California - Irvine.
Glenda M. Flores, University of California Irvine (2016)
Dr. Glenda M. Flores is currently an Assistant Professor of Chicano/Latino Studies (w/courtesy Sociology) at the University of California Irvine. She received her PhD in Sociology and a certificate in Gender Studies from the University of Southern California. She specializes on Latina professionals, education, middle-class minorities and the workplace. In her work she explores the mobility patterns of the children of Latino immigrants and their workplace experiences in white-collar occupations. Dr. Flores's ethnographic investigation of Latina professionals, in particular Latina teachers, has been published in Qualitative Sociology and Gender, Work and Organization. She is currently completing a book manuscript on the life trajectories and workplace experiences of Latina teachers who work in multiracial schools. She has received national recognition for her research and has been the recipient of the American Sociological Association's Race, Gender, Class Section Award and the Latina/o Sociology Section's Cristina Riegos Award. Her qualitative investigation of Latina professionals in multiracial schools has been supported by the Myra Sadker Foundation, the Ford Foundation, the National Academy of Education Spencer Foundation Fellowship Program, the National Science Foundation, and the UC/ACCORD organization.
Elizabeth Vaquera, University of South Florida  (2016)
Dr. Elizabeth Vaquera is Associate Professor in the Department of Sociology at the University of South Florida (Tampa, USA). She joined USF in 2007 after completing her PhD at the University of Pennsylvania. Her research interests include social and emotional well-being of vulnerable and diverse groups, especially children and immigrant and minority groups. Her work has appeared in a number of peer-reviewed journals including The Hispanic Journal of Behavioral Sciences, Child Development, Social Science and Medicine, Social Science Research, The Sociological Quarterly, and Social Science Quarterly, among others, and has received support from U.S. federal funding agencies such as the National Science Foundation and the National Institutes of Health. Her latest book, Education and Immigration (with G. Kao and K. Goyette) explores the educational outcomes of post-1965 immigrants and their children in the U.S. by focusing on the overlaps between immigrant status and race and ethnic background.
Veronica Terriquez, University of Southern California (2017)  
Jessica Vasquez, University of Oregon (2017)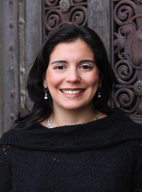 Student Representative (two-year term): Lorena Castro, Stanford University (2016) 
Student Representative (one-year term): Sandra Alvear, Rice University (2015)