Recent Publications In International Migrations
Related Links
Check out the latest edition of World on the Move for a full listing of the latest publications from our members.
Artifacts and Allegiances: How Museums Put the Nation and the World on Display
By Peggy Levitt, University of California Press, 2015
What can we learn about nationalism by looking at a country's cultural institutions? How do the history and culture of particular cities help explain how museums represent diversity? Artifacts and Allegiances takes us around the world to tell the compelling story of how museums today are making sense of immigration and globalization. Based on firsthand conversations with museum directors, curators, and policymakers; descriptions of current and future exhibitions; and inside stories about the famous paintings and iconic objects that define collections across the globe, this work provides a close-up view of how different kinds of institutions balance nationalism and cosmopolitanism. By comparing museums in Europe, the United States, Asia, and the Middle East, Peggy Levitt offers a fresh perspective on the role of the museum in shaping citizens. Taken together, these accounts tell the fascinating story of a sea change underway in the museum world at large.
African Immigrant Families in Another France
By Loretta E. Bass, 2014
The incorporation of Sub-Saharan African immigrant families is a key issue for France and Europe at large. Using the voices of first and second-generation immigrants to describe their integration experiences, this book illustrates how racial and immigrant statuses are assigned simultaneously and inseparably for those of African-descent in France, and in turn limit employment and social cohesion, often irrespective of an individual's qualifications or citizenship documents. First- and second-generation African youth report being, "French on the inside, African on the out," because they hold a French mentality but are continually treated as outsiders. At the same time, this research connects individual-level cultural and religious factors that shape varied levels of resilience and immigrant outcomes. This book explains how the practices of French universalism and secularism together have become a straightjacket and ostrich policy for France, as the difficulties of incorporation are obfuscated by data regulations that limit the ability to measure social inequalities patterned by ethnic or immigrant descent.  To view a free, sample chapter from Dr. Bass' new book, visit the following URL:  http://www.palgrave.com/resources/sample-chapters/9780230361959_sample.pdf.
The Children of Immigrants at School: A Comparative Look at Integration in the United States and Western Europe
Edited by Richard Alba and Jennifer Holdaway, NYU Press, 2013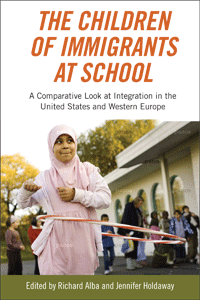 The Children of Immigrants at School explores the 21st-century consequences of immigration through an examination of how the so-called second generation is faring educationally in six countries: France, Great Britain, the Netherlands, Spain, Sweden and the United States. In this insightful volume, Richard Alba and Jennifer Holdaway bring together a team of renowned social science researchers from around the globe to compare the educational achievements of children from low-status immigrant groups to those of mainstream populations in these countries, asking what we can learn from one system that can be usefully applied in another.
Working from the results of a five-year, multi-national study, the contributors to The Children of Immigrants at School ultimately conclude that educational processes do, in fact, play a part in creating unequal status for immigrant groups in these societies. In most countries, the youth coming from the most numerous immigrant populations lag substantially behind their mainstream peers, implying that they will not be able to integrate economically and civically as traditional mainstream populations shrink. Despite this fact, the comparisons highlight features of each system that hinder the educational advance of immigrant-origin children, allowing the contributors to identify a number of policy solutions to help fix the problem. A comprehensive look at a growing global issue, The Children of Immigrants at School represents a major achievement in the fields of education and immigration studies.
Governing Immigration Through Crime: A Reader
Edited by Julie A. Dowling and Jonathan Xavier Inda, Stanford University Press, 2013
In the United States, immigration is generally seen as a law and order issue. Amidst increasing anti-immigrant sentiment, unauthorized migrants have been cast as lawbreakers. Governing Immigration Through Crime offers a comprehensive and accessible introduction to the use of crime and punishment to manage undocumented immigrants.
Presenting key readings and cutting-edge scholarship, this volume examines a range of contemporary criminalizing practices: restrictive immigration laws, enhanced border policing, workplace audits, detention and deportation, and increased policing of immigration at the state and local level. Of equal importance, the readings highlight how migrants have managed to actively resist these punitive practices. In bringing together critical theorists of immigration to understand how the current political landscape propagates the view of the "illegal alien" as a threat to social order, this text encourages students and general readers alike to think seriously about the place of undocumented immigrants in American society.
Religion on the Edge: De-centering and Re-centering the Sociology of Religion
Edited by Courtney Bender, Wendy Cadge, Peggy Levitt and David Smilde, Oxford University Press, 2012
The thirteen essays in this volume challenge conventional scholarly approaches to the sociology of religion. They urge readers to look beyond congregational settings, beyond the United States, and to religions other than Christianity, and encourage critical engagement with religion's complex social consequences. Religion on the Edge offers groundbreaking new methodologies and models, bringing to light conceptual lacunae, re-centering what is unsettled by their use, and inviting a significant reordering of long-accepted political and economic hierarchies. The book shows how social scientists across the disciplines can engage with the sociology of religion. By challenging many of its long-standing empirical and analytic tendencies, the contributors to this volume show how their work informs and is informed by debates in other fields and the analytical purchase gained by bringing these many conversations together. Religion on the Edge will be a crucial resource for any scholar seeking to understand our post-modern, post-secular world.
Welfare States and Immigrant Rights: The Politics of Inclusion and Exclusion
By Diane Sainsbury, Oxford University Press, 2012
Welfare States and Immigrant Rights deals with the impact of welfare states on immi-grants' social rights, economic well-being and social inclusion, and it offers the first sys-tematic comparison of immigrants' social rights across welfare states. To study immi-grants' social rights the author develops an analytical framework that focuses on the inter-play between 1) the type of welfare state regime, 2) forms of entry, or entry categories, and 3) the incorporation regime regulating the inclusion or exclusion of immigrants. The book maps out the development of immigrants' social rights from the early postwar period until around 2010 in six countries representing different welfare state regimes: the United States, the United Kingdom, Germany, France, Sweden, and Denmark. Part I addresses three major issues. The first is how inclusive or exclusionary welfare state policies are in relation to immigrants, and especially how the type of welfare state and incorporation re-gime affect their social rights. The second issue concerns changes in immigrant rights and the direction of the change: rights extension versus rights contraction. The third issue is how immigrants' social rights compare to those of citizens. Part II shifts from policies affecting immigrant rights to the politics of the policies. It examines the politics of inclusion and exclusion in the six countries, focusing on social rights extension and contraction and changes in the policy dimensions of the incorporation regime that impinge on immigrant rights. 20% off when ordering from Oxford.
Eastern European Immigrant Families
By Mihaela Robila, New York, NY: Routledge, 2009
Immigration from Eastern Europe to the United States has grown significantly in the last few decades. While Asian and Latin American immigrations have been central to the discourse of migration to the US, the rapid growth of Eastern European immigrants has received insufficient attention. This volume fills this gap by presenting key issues related to immigration from Eastern Europe. After reviewing a historical background, the book presents quantitative and qualitative data on contemporary Eastern European migration with a focus on children and families, addressing issues such as cultural beliefs, child-rearing values and practices, gender roles and marital interactions. The volume also examines the benefits and challenges of migration in Eastern European sending countries such as the role of remittances, the loss of human capital or human trafficking. The issues faced by Eastern European families as they immigrate around the world are also explored.
Inheriting the City: The Children of Immigrants Come of Age
By Philip Kasinitz, John Mollenkopf, Mary Waters, and Jennifer Holdaway, Harvard University Press and the Russell Sage Foundation, 2008
Behind the contentious politics of immigration lies the question of how well new immigrants are becoming part of American society. To address this question, Inheriting the City draws on the results of a ground-breaking study of young adults of immigrant parents in metropolitan New York to provide a comprehensive look at their social, economic, cultural, and political lives.
Inheriting the City examines five immigrant groups to disentangle the complicated question of how they are faring relative to native-born groups, and how achievement differs between and within these groups. While some experts worry that these young adults would not do as well as previous waves of immigrants due to lack of high-paying manufacturing jobs, poor public schools, and an entrenched racial divide, Inheriting the City finds that the second generation is rapidly moving into the mainstream—speaking English, working in jobs that resemble those held by native New Yorkers their age, and creatively combining their ethnic cultures and norms with American ones. Far from descending into an urban underclass, the children of immigrants are using immigrant advantages to avoid some of the obstacles that native minority groups cannot.
Ethnic Solidarity for Economic Survival: Korean Greengrocers in New York City
By Pyong Gap Min, Russell Sage Foundation, 2008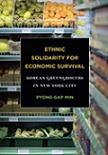 Generations of immigrants have relied on small family businesses in their pursuit of the American dream. This entrepreneurial tradition remains highly visible among Korean immigrants in New York City, who have carved out a thriving business niche for themselves operating many of the city's small grocery stores and produce markets. But this success has come at a price, leading to dramatic, highly publicized conflicts between Koreans and other ethnic groups. In Ethnic Solidarity for Economic Survival, Pyong Gap Min takes Korean produce retailers as a case study to explore how involvement in ethnic businesses—especially where it collides with the economic interests of other ethnic groups—powerfully shapes the social, cultural, and economic unity of immigrant groups.
This important new book charts a novel course in immigrant research by demonstrating how business conflicts can give rise to demonstrations of group solidarity. Ethnic Solidarity for Economic Survival is at once a sophisticated empirical analysis and a riveting collection of stories—about immigration, race, work, and the American dream.
A Place at the Multicultural Table: The Development of an American Hinduism
By Prema A. Kurien, Rutgers University Press, 2007
Multiculturalism in the United States is commonly lauded as a positive social ideal celebrating the diversity of our nation. But, in reality, immigrants often feel pressured to create a singular formulation of their identity that does not reflect the diversity of cultures that exist in their homeland. Hindu Americans have faced this challenge over the last fifteen years, as the growing number of Indians that have immigrated to this country has more than doubled.
In A Place at the Multicultural Table, Prema A. Kurien shows how various Hindu American organizations—religious, cultural, and political—are attempting to answer the puzzling questions of identity outside their homeland. Drawing on the experiences of both immigrant and American born Hindu Americans, Kurien demonstrates how religious ideas and practices are being imported, exported and reshaped in the process. The result of this transnational movement is an American Hinduism—an organized, politicized, and standardized version of that which is found in India.
This first in-depth look at Hinduism in the U.S. and the Hindu Indian American community helps readers to understand the private devotions, practices, and beliefs of Hindu Indian Americans as well as their political mobilization and activism. It explains the differences between immigrant and American born Hindu Americans, how each understands their religion and their identity, and it emphasizes the importance of the social and cultural context of the U.S. in influencing the development of an American Hinduism.
God Needs No Passport: Immigrants and the Changing American Religious Landscape
By Peggy Levitt, The New Press, 2007
God Needs No Passport argues that current debates about religion and immigration are based on assumptions that are out-of-sync with our national reality because they fail to grasp the strong connection between changes in immigration and changes in religious life. When we talk about how religion influences American culture and politics, we still really mean Protestantism. When we think about what religion is, where we look for it, and how it works we tend to think in traditional terms. Jewish and Catholic colors are included though they hardly dominate the design. Islam, Hinduism, and Buddhism are barely visible. Today's immigrants, however, are remaking the religious landscape by introducing new faith traditions and Asianizing and Latinoizing old ones. They don't trade in their home-country membership card but challenge the taken-for-granted dichotomy between either/or, United States or homeland, and assimilation vs. multiculturalism by showing it is possible to be several things simultaneously and, in fact, required in a global world.
Emotional Bridges to Puerto Rico: Migration, Return Migration and the Struggles of Incorporation
By Elizabeth Aranda, Rowman & Littlefield Publishers, 2006
"Emotional Bridges to Puerto Rico" is about Puerto Ricans' struggles of incorporation into U.S. society, and the conditions under which members of the Puerto Rican middle-class move back and forth between the mainland and island. The book illustrates how structures of inequalities based on race, class, and gender affect Puerto Ricans' subjective assessments of incorporation. Issues regarding the racialization of Puerto Ricans in the U.S. reveal that in spite of structural incorporation, Puerto Ricans do not feel like they fully belong in mainland society. These experiences carry implications for future migration and settlement decisions.