ASA Annual Meetings
Section Activities at the 2019 ASA Meeting in New York City
Cross-border coalitions and movements for social justice
Session Organizer: Ali Chaudhary (Rutgers University, New Brunswick)
This session invites submissions on organizations, coalitions, and social movements that cross and transcend traditional boundaries of race, gender, class, space, and nationality in and across Asia or Asian America in its mission, membership, or key issues. We interpret "cross-border" broadly and welcome papers from cross-racial mobilization on ethnic studies/ affirmative action to transgender organizations to transnational social movements.
 
Racialized bodies, citizenship, and representations
Session Organizer: Lisa Park (UC Santa Barbara)
This session welcomes papers that seek to explore the racialization of bodies, citizenship or representation of Asian and/ or Asian Americans. This may include such topics as immigrant deportation/ incarceration, media representations, trafficking of/ justice for sex workers, white supremacist movements, and other topics that focus on race and racism as its key analysis.
Past ASA Meetings
Section on Asia and Asian America
Paper Sessions: TBA
Refereed Roundtables: TBA
2008 Award Winners and Honorees:
2008 Book Award
Co-Winners: Das Gupta, Monisha. 2006. Unruly Immigrants: Rights, Activism, and Transnational South Asian Politics in the United States. Durham: Duke University Press.
Jung, Moon-Kie. 2006. Reworking Race: The Making of Hawaii's Interracial Labor Movement. New York: Columbia University Press.
2008 Research Paper Award
Winner: Kelly, H. Chong. 2006. "Negotiating Patriarchy: South Korean Evangelical Women and the Politics of Gender." Gender & Society 20: 697-724
2008 Graduate Student Paper Award
Winner: Leslie Kim Wang (University of California, Berkeley). "Multicultural Negotiations in a Chinese State-Run Orphanage." Unpublished Manuscript, Department of Sociology, UC, Berkeley
Honorable Mention
Hae Yeon Choo (University of Wisconsin-Madison). 2006. "Gendered Modernity and Ethnicized Citizenship: North Korean Settler in Contemporary South Korea." Gender & Society 20: 576-604.
2008 Early Career Award
Winner: Dina Okamoto, University of California, Davis
Honorable Mention
Angie Chung, The University at Albany
2008 Outstanding Teaching Award
[Not given this year]
Congratulations for all winners and honorees!
Outstanding Graduate Student Paper Award
Hwa-Ji Shin, State University of New York at Stony Brook
"Trajectories of Nation: Remaking Citizenship, Immigration, and National Self-Image in Japan"
Exemplary Early Career Award
Lisa Sun-Hee Park, University of California at San Diego
Outstanding Book on Asia
Life Under Pressure: Mortality and Living Standards in Europe and Asia: 1700-1900
Tommy Bengtsson, Lund University
Cameron Campbell, University of California at Los Angeles
James E. Lee, University of Michigan
Distinguished Teacher and Mentor Award
Michael Allen Omi, University of California at Berkeley
Contributions to the Section Award
Morrison G. Wong, Texas Christian University
David Takeuchi makes an important speech.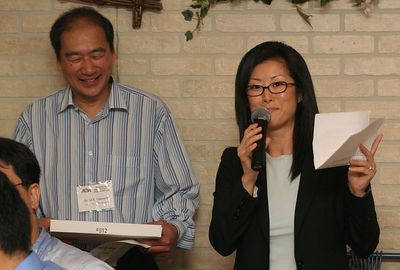 Sharon Lee introduces an award.
Cameron Campbell and Zai Liang
Thanks to Cameron Campbell and Xiaogang Wu for the photographs.