ASA requires that editors of its journals and the Rose Series in Sociology provide annual reports at the end of each calendar year. In addition to these narrative reports, journal editors are also required to provide information on manuscripts received and editorial decisions. The summary table presented is intended to provide authors with information on the chances of having a manuscript accepted and the length of time an author can expect to wait for a decision.
For a list of previous Editor's Reports, click here.
Editors' Reports for 2017
For further details on the information presented below, please see the Summary of Editorial Activity table.
American Sociological Review
From January 1 through December 31, 2017, American Sociological Review (ASR) received 770 submissions, which is roughly the same number submitted in 2016 (765). Of those, 36 were accepted unconditionally, 40 conditionally accepted, 73 were given invitations to revise and resubmit, and 1 paper was withdrawn by the author. Given the high standards at ASR, the vast majority of papers were rejected. 446 were rejected after going through the peer-review process and another 174 were desk rejected. Among new (first) submissions to the journal, 492 (or 73.9 percent) were sent out for peer review. Among those that underwent the peer review process, 427 (86.8 percent) were rejected outright. 61 (12.4 percent) received an invitation to revise and resubmit, and 3 papers were accepted subject to minor revisions. No first submissions were accepted unconditionally. Among the 113 papers that were revised and resubmitted (first resubmission), the majority were either accepted subject to minor revisions (35.6 percent) or accepted outright (34.6 percent). 11.0 percent received another invitation to revise and resubmit, while only 18.3 percent were rejected. Of the small number of papers given a second revise and resubmit invitation, only two were rejected and the rest were ultimately accepted. In 2016, very few papers were given multiple revise and resubmit decisions. Indeed, only six papers came into the office that were either the third or fourth submission (which were all papers that were "conditionally accepted"), and each of these was accepted unconditionally.
A primary goal we have pursued is to reduce the number of multiple R & R decisions at the journal, recognizing that typically there are diminishing returns with each revision, and also that multiple revise and resubmit decisions can be frustrating for authors—especially if the paper is rejected. This means that we have been relatively selective when it comes to evaluating first submissions, extending R & R invitations only to papers that appear to have a high probability of eventually being published. In 2017, only 12 papers were rejected after receiving a revise and resubmit invitation on the first round. Because we have used our board members primarily to provide feedback on papers receiving a revise and resubmit decision, their feedback has helped authors to make successful revisions.
We have also been trying to strike an appropriate balance when deciding whether a first submission should be sent out for review. On the one hand, we feel that it is important that ASR provide a developmental service for authors, giving them the benefits that come with peer review. At the same time, we recognize that the peer-review process relies on volunteer labor and many reviewers are overburdened with review requests. We give the authors the benefit of the doubt when it is a close call. But in some instances we do feel it is best for the author and for the reviewers if we desk reject a paper. Desk rejections are usually related to questions about whether there is an appropriate fit between the submitted article and a general sociology journal. When it seems clear that the fit is not right, authors benefit if they receive that feedback sooner, rather than later, so they can submit the article to another journal without having to wait out the review process.
Using the traditional ASA indicator for the acceptance rate (the number of accepted manuscripts divided by the number of overall decisions, multiplied by 100), the acceptance rate for 2017 was 4.7 percent. If we instead calculate the acceptance rate as accepted papers divided by final decisions, multiplied by 100 (as suggested by England in the March 2009 issue of Footnotes), the acceptance rate was 5.8 percent.
Focus on an Efficient and High Quality Review Process. Our attention to processing manuscripts in a timely manner continued to pay dividends. Among first submissions, the average time from submission to decision was 5.6 weeks. Counting only papers that went through the peer review process, the average time from submission to decision was 7.6 weeks. Our approach starts with initiating the reviewer selection and invitation process the same day in which a submission arrives in our office. By lining up reviewers very soon after we receive the paper, we are usually able to reach decisions on submissions within a couple months of receiving them. Getting an early start also frees up additional time that we have used to provide extra guidance to authors who receive invitations to revise and resubmit (including feedback from our editorial board members). The journal co-editors also have time to write detailed decision letters (regardless of the decision reached) that help focus the authors' attention on the most significant issues that need to be addressed.
Visibility of Journal Content. ASR maintains its high rank among sociology journals in terms of its impact factor. The 2016 figure rose to 4.40 and 2017 figures will be released in the coming months and should reflect another increase based on our own calculations. Some of our recent publications have received a substantial amount of media attention and scholarly engagement. Lauren Rivera's December 2017 article, "When Two Bodies Are (Not) a Problem: Gender and Relationship Status Discrimination in Academic Hiring," has been downloaded 6,745 times since it went live on the SAGE website last year and received full coverage on both Chronicle of Higher Education, and Inside Higher Education. Reeves, Friedman, Rahal and Flemmen's December 2017 article, "The Decline and Persistence of the Old Boy: Private Schools and Elite Recruitment 1897 to 2016," received international coverage in various news outlets, including Times Higher Education. Sharkey, Torrats-Espinosa and Takyar's December 2017 article, "Community and the Crime Decline: The Causal Effect of Local Nonprofits on Violent Crime," received extensive news coverage in national outlets, being featured in a "Gray Matter" New York Times opinion column written by the lead author. Finally, Sarah Brayne's October 2017 piece, "Big Data Surveillance: The Case of Policing," has been downloaded more than 4,000 times from the SAGE website, and has received an extensive amount of national news coverage, including a full-length piece by CNN's tech reporter Matt McFarland.
The ASR twitter feed following continues to grow every day. It now stands 2,162 followers (as of May 10, 2018) up from 1,300 at about the same time last year. Updates in the form of new articles coming out "OnlineFirst" in the SAGE website get a wide amount of engagement and attention in the forms of dozen (and for the most impactful articles hundreds) of "likes" and retweets. The journal's online presence is now well established and the twitter feed is one place where readers keep updated of new ASR research.
Generating Diverse Content. Our goal of increasing methodological diversity of papers published in the journal came to fruition in 2017. When taking on the editorship, we committed ourselves to publishing articles that better reflect the methodological diversity in the discipline as a whole. In 2017, the journal published 7 papers that were primarily ethnographic, 3 articles that were strictly theoretical contributions, and 1 that was comparative historical.
Editorial Board and Reviewers. ASR continues to benefit from a diverse and extraordinarily talented editorial board. In 2017 the board had 8 deputy editors and 63 regular board members. The total editorial board (including deputy editors) includes 56.0 percent women and 43.0 percent racial and/or ethnic minorities. We also benefited from outstanding work of our managing editor, Mara Nelson Grynaviski, our coordinating editors Paige Ambord, William Ceranec, Sarah Harrison, Audra Nakas, and Marshall Taylor, Emmanuel Cannady, William Kye, and Brianna McCaslin.
Finally, we are extraordinarily grateful for the outstanding work of ad hoc reviewers who have impressed us with their expertise, thoroughness, and a clear desire to help authors to improve their papers, even if those papers don't end up in the pages of ASR.
Omar Lizardo, Rory McVeigh, and Sarah Mustillo, Editors
Contemporary Sociology
Books Considered. The editorial office of Contemporary Sociology received 813 books from publishers during 2017. The total number of books that the editor examined was 813.
Review Process. Of the 813 books submitted, 383 were screened by the editor and accepted for review. 401 books were classified as "No Review." The decision on 27 books is pending.
Production Lag. Between the moment a book arrives for review consideration and the review (if any) is published, the lengthiest component in the process is the time required for the designated reviewer to submit his or her review after receiving the book. The editorial office, on average, schedules reviews, articles, and review-essays for publication within 10 weeks after the materials arrive, and after consultation with the editorial board. This process occurs every two months. The journal's managing editor copyedits and formats all the work received electronically in preparation for publication. The copyedited materials are sent to SAGE for typesetting, and several sets of proofs are corrected prior to publication. The production lag represents the time between receipt of the review and the publication date. The production lag averages 4 months.
Items Published. 300 regular reviews were finished and published in Volume 45, plus 18 review essays, 1 symposium, and 5 featured essays. In addition, 14 "Briefly Noted" reviews (250-500 words), 6 comments, and 2 replies were published. The total number of items published is 346 and covers a total of 378 books.
Editorial Board Members and Reviewers. The editorial board was comprised of 22 women and 14 men in 2017. This included 9 minority and 5 international editorial board members.
Michael Sauder, Editor
Contexts
In 2017, as the pretty, public face of sociology, we continued to publish reader-friendly, cutting-edge social research, and we took it from whoever would give us the good stuff. We got it from sociologists, journalists, photographers, Noam Chomsky, and a community college student.
We published a total of 73 items in print in 2017, 17 of which were peer-reviewed feature articles. The others were non-peer-reviewed pieces in the viewpoints, culture, books, trends, teaching and learning, in pictures, interviews, and backpage sections. We continued to publish a fair amount of web-only, rapid-response sociological content. A lot of our print and web-only pieces found their way into the third edition of the Contexts Reader, published in 2018.
Team Contexts® in 2017 was held together by our senior managing editor, Letta Page, who edits every word. (Best editor ever!) If you wrote for Contexts, you dealt with her and you're better off for it. Our section editors are the best and were responsible for most of the content in the magazine. Szonja Ivester brought us great book reviews, Andrew Lindner found fantastic trends pieces, Shehzad Nadeem wins an award for having organized brilliant viewpoints forums every issue, and Nathan Palmer got us lovely teaching and learning articles. Kristen Barber put out loads of fun, interesting articles. Our magazine is a work of art because of all the work ThinkDesign puts into it. They rock. And our editorial board members are great. We put a lot of demand on them to review and write, and they not only do these things, but do them really well. Finally, we were honored to induct the first three people into the pantheon of the wholly unofficial but still prestigious Contexts Hall of Fame™: Paula England, Lisa Wade, and Steven Thrasher. Their dedication to helping Contexts mature, improve, and survive went far beyond anything we could reasonably have asked for, and for that we're grateful.
Thus endeth our editorship. Thanks to all who helped produce this labor of love, and to everyone reading it. We're excited to see Contexts grow under its new editors, Rashawn Ray and Fabio Rojas!
Syed Ali and Philip Cohen, Editors
Journal of Health and Social Behavior
Journal of Health and Social Behavior has a long-standing reputation as an outlet for cutting edge research on the social dimensions of health and illness. Reflecting JHSB's mission statement, our articles not only apply sociological theories and methods towards elucidating a wide array of health issues, but also use health issues to inform our broader understanding of many sociological topics, including inequalities, identities, social ties, and organizations. In 2017, our papers reflected this focus, with many papers touching on issues of social inequalities, employing multiple levels of analysis, and adopting a life course perspective. All studies sought not only to employ theory, but to expand it. The articles employed a wide range of qualitative and quantitative methods to study the social origins of health in the United States and other countries.
Journal Operations
In 2017, JHSB completed its first full year under our new editorship. A key focus of the first year of our editorial term was the reduction of the substantial backlog that had accumulated in recent years. Over the past decade, the number of manuscripts submitted to JHSB increased considerably, but the number of papers published annually remained the same. This led to the gradual build-up of a considerable backlog of manuscripts that had been accepted for publication, but were not being published (online or in print) until over a year past that point. The accumulation of this backlog had the potential to snowball into an avalanche during this editorial period. Although we began editorial work during July 2016, the first manuscripts accepted during their term were not published until the December 2017 issue.
Several steps were taken to alleviate the backlog and return the journal to normal operations. First, we requested and received an additional allocation of page space to relieve the backlog. Second, changes were made to the structure of production pacing and copy editing. Third, we also made some difficult decisions on manuscripts submitted during 2017 in order to reduce the backlog, leading to a lower acceptance rate during this year than they would prefer to see. Together, these efforts led to the elimination of the backlog and we have assessed that the journal had returned to normal operations by the end of 2017 and the acceptance rate has returned to the historical average of approximately 9-10 percent seen over the past decade.
The increase in the page allocation has allowed us to publish nine papers per issue in recent issues. This brings the total number of papers per year up to 36, an increase from the average of 30 papers that have been published over the past decade. We are hopeful that the temporary increase in page allocations will remain permanent after the 2018 volume. This will account for the increase in submissions in recent years and prevent a future accumulation of a backlog. Indeed, this matter has been identified by prior editors. As noted by previous editor Gilbert Gee:
"Our page allocations (i.e. pages given to each issue) remained constant, but the increase in submissions has led to a backlog of articles awaiting publication. Our backlog was about two issues. I recommend that we monitor this backlog. Should it continue to grow, we might entertain the idea of increasing the page allocation."
We agree with this statement and have found the current level of nine articles per issue to be appropriate for the current number of submissions we are receiving.
Despite the work to reduce the manuscript backlog, the journal's operations ran smoothly in 2017. For a second straight year, the average time from submission to decision declined. The average turnaround time from receipt of submission to first decision was 4.5 weeks, a schedule slightly lower than prior years (5.2 weeks in 2016; 5.9 weeks in 2015).
The production lag time—i.e. time between acceptance of a paper and its appearance in print—rose from 9.1 months in 2016 to 12.5 months in 2017. For articles in the March 2017 issue, timing to print was 14 months but this production lag was down to 8.5 months by the December 2017 issue, an indication of the shift in production due to the efforts to curtail the backlog. Now that we dealt with the backlog by the end of 2017, we anticipate much lower production lag time during 2018.
JHSB received 396 new manuscripts in 2017, an increase from 348 in 2016. This was a return to approximately 400 submissions per year that occurred during Gilbert Gee's term as editor. The temporary decrease in 2016 might be attributable to the journal's transition, whereby some authors might have been hesitant to submit during the editorial transition. Of the 396 new submissions, 43.9 percent were invited for peer review, with the remainder desk rejected after initial review by the editors. Among reviewed articles, 12.6 percent were invited for a revise and resubmit and 87.4 percent were rejected after review.
In 2017, JHSB published 30 articles, no corrigenda, and 4 policy briefs. Regarding the latter, we select one paper from each issue that has significant policy implications and ask the authors to craft a one-page brief directed at policymakers, media outlets and the general public. The brief is included in the front-end of the issue and on the journal home page and distributed to media outlets and non-profit and governmental organizations across the country. All briefs are open-access.
Deputy Editors, Editorial Board, Peer Reviewers, and Journal Staff
The journal's Deputy Editors (Jason Beckfield, Sarah Burgard, Robert Faris, Hedwig Lee, Bruce Link, Sara Shostak, and Margaret Weden) have played an invaluable role in adjudicating difficult decisions, managing conflict-of-interest submissions, and providing advice on the journal's operations.
Rotating off the editorial board on December 31, 2017, were the following: Ilana Akresh, William Avison, Terje Eikemo, Tyrone Forman, Bridget Goosby, Steven Haas, Terrence Hill, Allen LeBlanc, Karen Lincoln, Ka-yuet Liu, Jane McLeod, Jill Quadagno, Janet Shim, Karen Lutfey Spencer, David Stuckler, Edna Viruell-Fuentes, Emily Walton, and Anna Zajacova. The editorial board was diverse in terms of gender (58 percent women in 2017; 59 percent in 2016), and race/ethnicity (21 percent minorities in 2017; 25 percent in 2016).
To create opportunities and facilitate diversity in our editorial board (and reduce potential selection biases based on professional networks), we instituted an open call for nominations to the editorial board. Based upon these nominations, we selected new editorial board members from a wider pool of individuals. Beginning on January 1, 2018, new editorial board members included Tony Brown, Amy Burdette, Wen Fan, Holly Foster, Katherine Frohlich, Elizabeth Gage-Bouchard, Donald Light, Krystale Littlejohn, Tara McKay, Sanyu Mojola, Anna Mueller, Martyn Pickersgill, Jacqueline Torres, Yang Claire Yang, and Hui Zheng.
Additionally, we instituted peer review awards for the 2017 review period. In evaluating candidates for the inaugural peer review awards, we considered several factors, including quality of constructive content (for editors and authors), the number of reviews performed, and punctuality of returned reviews. The following individuals were selected for outstanding contributions via their peer review evaluations during the calendar year of 2017: Matthew Andersson, Bridget Gorman, Adam Lippert, stef shuster, and Mieke Beth Thomeer. These peer review awards were announced in the March 2018 issue.
We thank the outgoing editorial board members, the new and continuing board members, and the many additional ad hoc reviewers who have contributed their time and expertise so generously to the journal. Without their contributions, we simply could not fulfill the goal of publishing the very best papers in medical sociology submitted to the journal.
We have been fortunate to work with such a talented editorial office team. Andrea Polonijo rotated off the position as Managing Editor for Production in September 2017. Ryan Trettevik has capably filled her shoes since then, with Andrea continuing as our copyeditor. In July 2018, Ty Miller will rotate off the Managing Editor for Reviews position to start his job as Assistant Professor of Sociology at Winthrop University. Editorial Assistant Stephanie Wilson will assume this role at that time. Of course, there was all of the hard work and dedication by the editorial board members, reviewers, and authors. It is because of such a broad and supportive community that JHSB continues to thrive. We are grateful to all of these people.
Richard Carpiano and Brian C. Kelly, Editors
Rose Series in Sociology
The ASA Rose Series in Sociology continues to publish highly visible, accessible books that have synthetic analyses of substantive fields in sociology. The books challenge prevailing paradigms, and develop fresh views of enduring controversies. Each manuscript is evaluated through a meticulous review process and is chosen for its quality, sophistication, and policy relevance. Only a few volumes are added each year. In 2017 Rose added one volume. The Russell Sage Foundation (RSF) continues to publish the Series and editors work closely with RSF's Director of Publications. The Rose Series and Russell Sage Foundation provide a unique opportunity for each of our contracted authors to revise and refine their work at a day-long seminar before publication.
We had busy final year, though we formally reviewed only one proposal and accepted one manuscript, Reginald Byron and Vincent Rosigno's Race and Gender Discrimination and the Stalled Revolution. We think all involved are excited to see that manuscript to its full, published form.
We continued to work with the authors of additional forthcoming manuscripts. Scott Frickel and James Elliott submitted a full draft of their book at the end of 2016 and scheduled a seminar at the Russell Sage Foundation in early 2017. We expect the paperback of their book, Sites Unseen: Uncovering Hidden Hazards in American Cities, to appear in July 2018. We are also working with Deborah Carr for her book, Golden Years: Social Inequalities in Later.
We thank the members of our editorial board. They provided invaluable service through our tenure as Rose editors. Too, the enterprise would have been impossible without the work of our managing editors, Alexis Merdjanoff and Lindsay Stevens. We thank them especially for their intellectual contributions.
In 2017, our editors, including Lee Clarke, Lauren Krivo, Paul McLean, and Patricia Roos (all of Rutgers University), began handing over the reins to a new editorial group at the City University of New York Graduate Center. We are excited to work with the new editors and facilitate a smooth transition to the series' new home.
Lee Clarke, Lauren Krivo, Paul McLean, and Patricia Roos, Editors
Social Psychology Quarterly
This report covers the third year of our term as co-editors. In this report, we share the status of the journal's operation, our editorial initiatives, and the editorial review process.
Volume 80 is the third and last volume of our co-editorship. Volume 80 contains 14 articles and five Research Notes. We continued to publish research that reflects the diversity of the social psychology research community. The manuscripts in Volume 80 focus on such varied topics as legitimacy, explicit bias, self-concept, therapeutic groups, inequality, autism, distributive justice, online field experiments, status hierarchies, networks, age and marital quality, social construction of evaluation, aggression and reciprocal behavior, gender and crime, and nonverbal ques and perceptions of dominance.
Editorial Board
We would like to thank the following editorial board members for their service to the journal; their term ended in December 2017. They included Jody Clay-Warner, Kay Deaux, Christina Falci, K. Jill Kiecolt, Neil MacKinnon, David Melamed, Scott Schieman, Hana Shepard, Verta Taylor, Lisa Troyer, and Murray Webster. We also would like to thank our Deputy Editors who were instrumental in identifying strong scientific contributions to the field: Michael Flaherty, Linda George, and Will Kalkhoff.
We maintained a board that had a good balance of subareas and methodological approaches within social psychology. Demographically, the 2017 editorial board had 39 members (including the Deputy Editors) with 12 minority individuals and 19 women.
Social Media
We persisted with a social media presence for the journal. We used Facebook and Twitter to promote each issue of the journal. We made two Facebook posts and two tweets over a short period of time for each of the articles published. As of December 2017, we had 291 "Likes" on Facebook and 121 "Followers" on Twitter.
Impact Factor
The impact factor for the journal for 2017 was 1.89, the same as 2016, and up from 1.457 in 2015. The five-year impact factor from 2016 was 2.551.
Editorial Statistics
During the calendar year 2017, Social Psychology Quarterly received about the same number of submissions as in past years. From January 1 through December 31, 2017, 205 manuscripts were submitted to the journal compared 231 in 2016, and 233 in 2015.
We asked our reviewers to evaluate a manuscript within three weeks. As in previous years, in most cases, we received reviews in less than 21 days. As a result, we averaged 35 days from submission to an editorial decision in 2017. This turnaround time is due to both the hard work of our colleagues who reviewed for the journal and our editorial board. In 2017, we received reviews from 194 members of the scientific community, not including reviews from our 39 members of the editorial board.
Using the acceptance rate in which acceptances are divided only by final decisions, SPQ's acceptance rate for 2017 was 12.2 percent, whereas the rate was 16.3 percent in 2016, and 11.81 percent in 2015. Using the traditional indicator for the acceptance rate in which acceptances are divided by the number of overall decisions, SPQ's acceptance rate was 6.8 percent compared to 10.6 percent in 2016, and 7.4 percent in 2015.
Editorial Staff
Over the past three years, our editorial staff provided high caliber support. We wish to acknowledge and thank them. Dr. Ryan Trettevik's expertise as the managing editor ensured each manuscript was processed effectively and in a timely fashion. Our editorial assistants, Phoenicia Fares and Elena Fox, were excellent in assisting us with getting the manuscripts ready for publication and handling our social media. Lastly, Gianna Mosser, with her long-time association with the journal as our copy editor, ensured that each manuscript was clear and accessible to our readership.
Editorial Transition
The transition of the journal to the new co-editors, Matthew Brashears and Brent Simpson, and the new managing editor, Laura Aufderheide Brashears, was seamless. We leave the editorship in the good hands of Matthew and Brent. We would like to thank the scientific community for their support during our co-editorship. This has been a very rewarding experience and an honor to have served.
Richard T. Serpe and Jan E. Stets, Editors
Sociological Methodology
The year 2017 marked the second year for Sociological Methodology editor Duane F. Alwin, located at Pennsylvania State University in University Park, PA, and working alongside managing editor Lisa Savage and deputy editor Jason R. Thomas.
Volume 47 became available online in its entirety in October 2017 and in print soon after. This volume featured a dedication to James A. Davis, who passed away in 2016, and a symposium on dynamic network models, which included one main paper, two commentaries, and a rejoinder from the symposium authors. In addition, the volume contained papers on social network models, multiplicative models for continuous dependent variables, causal inference, decomposing segregation, survey measurement, and data visualization.
For the entire year of 2017, 61 manuscripts were considered, 40 of which were new submissions, and 21 were resubmissions. Of the 40 new submissions, 20 were rejected without peer review, and 20 were placed into the review process. Of the 20 manuscripts reviewed, 8 were rejected and 10 were invited to resubmit a revised manuscript (2 were accepted subject to minor changes and 1 remained undecided).
The acceptance rate based on all the submissions and resubmissions in 2017 was 11.7 percent. The average number of weeks to decision was 8.2, ranging from 3.3 weeks for papers rejected without peer review, to 11.4 weeks for papers rejected after review, to 13.7 weeks for papers invited to revise and resubmit, to an average of 2.7 weeks for papers accepted unconditionally, and an average of 10 weeks for papers accepted subject to minor changes.
Sociological Methodology continues to benefit from the ease of the ScholarOne online manuscript tracking system for all new and revised submissions. We currently have a healthy flow of new and revised submissions.
In preparation for Volume 48, we have most of the manuscripts in copyediting or production. The plan is to complete this work in summer 2018, and we anticipate that this volume will come out some time in late summer 2018.
Duane F. Alwin, Editor
Sociological Theory
This past year saw a continuing growth in the popularity of Sociological Theory, at least as indicated by our submissions rate. We received 164 new submissions, up from 153 in both 2016 and 2015. Other than one outlier year (2014), in which we had 183 new submissions, this represents our highest total ever. We expect to break the old 2014 record in the present year, since at our current rate for 2018 we expect to receive 192 new manuscripts. The total number of editorial decisions made also has been increasing. In 2017 it was 67 percent higher than the corresponding number from five years earlier.
In 2017, we published a total of 19 papers, which is two more than in 2016 and four more than in 2015.
As I have underscored every year, one of my intended innovations as editor is to publish manuscripts of widely varying lengths, including a few slightly longer than our usual 14,500 word count limit and others considerably shorter, all under the motto that ideas don't always come in standard-size packages. In 2017, this project began to bear fruit. A few of our published papers indeed were above the standard length (and the better for it), but several others were below the standard length, and we also published a remarkably vibrant and exciting symposium with four short papers, roughly 4,500-5,000 words in length each, all addressing the general theme of "What is Good Theorizing?" The headliner of this symposium was Kieran Healy's much anticipated paper, "Fuck Nuance," about which a feature article had been written in The Chronicle of Higher Education; the other, stand-alone pieces (all addressing the same general theme) were by Max Besbris and Shamus Khan, Ashley Mears, and Ivan Ermakoff. Not only did the shorter length of these pieces allow for more ideas to be packed in—four papers' worth of ideas in the space typically taken up by a paper and a half—but their concise, to-the-point style added, I think, to their impact. Almost instantly, they became among the most high-profile theory papers of the year. In this coming year, we will be coming out with another such symposium, with theoretically deep and empirically rich papers on the theme of "Networks and Time" by John Levi Martin, Emily Erickson, Ron Breiger, and Peter Bearman.
Sociological Theory also has begun publishing original papers (based on their Coser Lectures) by recipients of the annual Lewis A. Coser Award for Theoretical Agenda-Setting in Sociology. This is the highest award given in sociological theory to scholars at mid-career. Thus far we have published in this series seminal papers by Marion Fourcade and Isaac Reed; another by Iddo Tavory will come out soon.
One of my personal missions as editor has been to feature exciting theoretical work that explicitly foregrounds issues concerning race and gender. This agenda also has been bearing fruit, with papers coming out (and on the way) that feature fresh new ideas and insights both drawing inspiration from, and contributing back to, existing race and gender theorizing, all the while seeking also to challenge ways of thinking across sociological theory more generally. As I have been doing this, I have been noticing an increase in papers of this nature coming in among our new submissions; this is a salutary and encouraging development.
In the meantime, Sociological Theory has continued to present work that spans the entire spectrum of substantive and empirical concerns and analytic agendas. The one feature all these papers has shared is that their specifically theoretical dimension is particularly strong and that the theory building or theoretical development in which they engage makes compelling new contributions, regardless of whether the papers do "pure theorizing" or tackle empirical problems in a theoretically innovative or creative way. We are a theoretically eclectic journal, one that makes sure not to specialize in any particular approach or way of doing theory. During my editorship I hope to publish important work in all or nearly all the major areas of present-day sociological theorizing.
I would like to take this opportunity to thank some colleagues who in the past year have contributed to maintaining ST's standing as a successful and flourishing ASA journal. Many sociologists around the country and, indeed, throughout the world have reviewed papers for us in timely fashion and with great thoughtfulness and insight. Members of our editorial board also have been willing to set aside their other work, sometimes on short notice, and to assist us with reviews and sometimes also with guest editing. Their help is greatly appreciated. Finally, since well before I started editing ST, and throughout the three years I've been on the job, our managing editor, Joe Wiebe, has been of tremendous help to me. I can't thank him enough for his dedication to the journal and for all he does behind the scenes to make sure our operation runs smoothly and efficiently.
Mustafa Emirbayer, Editor
Sociology of Education
This year the journal has been healthy. We have attracted diverse scholarship, attentive reviewers, and published work by a breadth of scholars. 
Few others sub-areas of the discipline can match the breadth of sociology of education's substantive areas, the diversity of its theoretical perspectives, or the variety of its high-quality methodological approaches. We created a word-cloud to help show the breadth of submissions and have been pleased with our ability to solicit scholarship that is both quantitative and qualitative, international in nature, and related to current U.S. policy issues. My goal is for the journal to continue to expand its research mission and to be sure to publish work that covers education broadly, not just the sociology of schools. 
Manuscript Flow. This report covers the manuscript activity of the journal from January 1, 2017, through December 31, 2017. As shown in the table below, SOE received 239 new submissions and 44 revised submissions.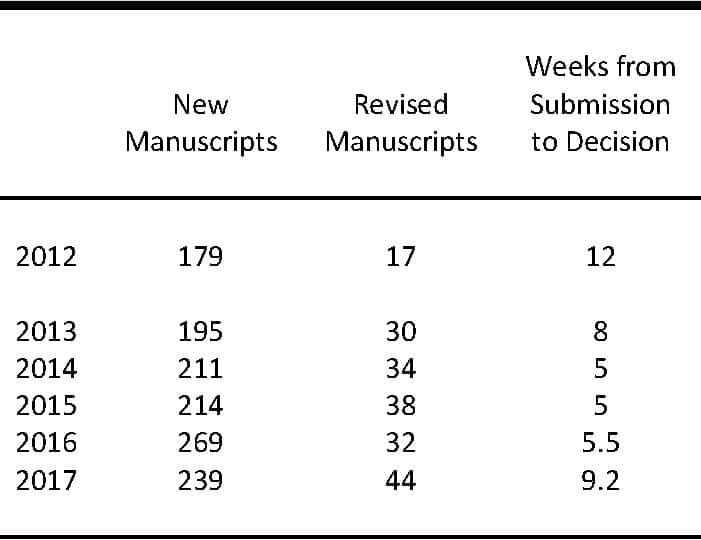 The acceptance rate for SOE is about 10 percent. Approximately 3.5 percent of original submissions were accepted and 67 percent of revised manuscripts were accepted. About 23.9 percent of new manuscripts were desk rejected—rejected without undergoing external peer review. However you calculate it, SOE's acceptance rate was low in 2017. The bottom line: SOE has been getting near 200 new submissions in recent years but has only been publishing 16 to 18 articles per year. My goal is ultimately to publish 20 articles a year. Last year, we published 18 articles and used all of our allocated pages.
During 2017, the time from manuscript submission to the delivery of a decision email averaged approximately 9.2 weeks. Though there was an increase in time to decision, the editorial team and I are still pleased with the pace, however we continue to work on ways to reduce the time while not compromising the editorial review process. I had hoped for an 8-week turn-around time for 2017 and did not meet that goal. We are on pace in 2018, however. 
We currently have no back log of accepted manuscripts. This means that our production lag (the time it takes for an accepted manuscript to actually appear in the journal) is about 2.5 months. This is something we are working on increasing. It will be better for the production of the journal to have a back log of one issue. 
Editorial Team: Thad Domina, Karoyln Tyson, Katerina Bodovski, and Jennifer C. Lee make a great editorial team as deputy editors. I couldn't be more grateful. I have relied on each of them to advise on tough decisions, review in their area of expertise, and handle manuscripts in which I had a conflict. There were two conflicts of interest in 2017 for me – coauthors who have submitted work. Deputy editors have stepped in to ensure a fair and just review process. I continue to provide the deputy editors with a report after each issue is finalized. This report outlines the manuscripts submitted by gender, rank, and methodological type. This report and their feedback at each issue has created consistent dialogue and feedback. They have been the strength of the journal. 
I have also leaned heavily on SOE's fantastic editorial board and will continue to do so. My managing editor helps identify editorial board members to serve as reviewers for each manuscript. I want to first thank the following outgoing members of the editorial board: Steven Elias Alvarado, Ebony N Bridwell-Mitchell, Susan A. Dumais, Jason Fletcher, Melanie J. Gast, Pat Rubio Goldsmith, Joshua Klugman, Lauren Rivera, Natasha Kumar Warikoo, and Xiaogang Wu. 
I also appreciate the efforts of continuing board members: Janice Aurini, Littisha Bates, Pamela Bennett, Regina Deil-Amen, Nicole Deterding, John Diamond , Douglas B. Downey, Stella M. Flores, Michael Gaddis, Roberto G. Gonzales, Amy Hsin, Simone Ispa-Landa, Florian Kiuppis , Joscha Legewie, L'Heureux Lewis-McCoy, Roz Mickelson, Lisa Nunn, Sarah Ovink, Maria Paino, Anthony Peguero, Andrew Penner, Kate Phillippo, Daisy Isabel Verduzco Reyes, Elizabeth Stearns, Jenny M. Stuber, Will Tyson, Regina Werum, Gregory C. Wolniak, and Christine Min Wotipka. 
Finally, SOE welcomes several new members to the board in 2018: Jeremy E. Fiel, Glenda M. Flores, Nilda Flores-Gonzalez, Lingxin Hao, Brandon A. Jackson, Mads Meier Jaeger, David B. Monaghan, Edward W. Morris, Hiroshi Ono, Melissa Wooten. 
In all, the board includes 26 women, 17 men, and 19 minorities.
Finally, and perhaps most importantly: My Managing Editor Rebecca Boylan has been an asset to the journal. 
Reviewers and Reviewing. I sincerely thank the nearly 400 people who reviewed for SOE in 2017. The pool of reviewers is international, disciplinarily diverse and methodologically sophisticated. The average review time for individual reviewers has been about 3.5 weeks. I have been impressed with the speed at which reviewers (mostly) respond and provide consistent and insightful reviews. The notes to me are often very helpful. I also would like to note that reviewers are critical but not callous. This helps the review process for the authors to revise and for me to make decisions. 
Finally, I want to acknowledge the five exceptional reviewers to whom we gave the "Revise and Resubmit" (Reviewer of the Year) Awards in August 2017. They are Littisha Bates, Jeremy E. Fiel, Allison Hurst, Evan Schofer, and Will Tyson. I look forward to continuing this tradition.
SOE welcomes submissions from across the broad substantive concerns of the field and is receptive to a wide array of theoretical perspectives and methodological approaches. Send your education-related manuscripts to SOE, and have your colleagues do the same. 
Linda Renzulli, Editor
Socius
Review Process. Socius, an open access journal, is an outlet for innovative, rigorously-reviewed scholarship that spans sociology subfields and provides free and rapid access to users across the world. We aim to publish high-quality, rigorously-reviewed research online.
Socius received a total of 113 papers in calendar year 2017. We desk-rejected (rejected immediately) 40 of those papers. Of the remaining 73 papers, we accepted 63 and rejected 10. This gives us an acceptance rate of 56 percent. Our desk reject rate is higher than in traditional print journals; however, two important objectives for Socius are a quick turnaround (from submission to publication) and limited R&Rs. Both of these goals are intended to respect the time of authors and reviewers, to move promising papers through the review process more efficiently, and to avoid spending inordinate reviewer and editor time on manuscripts that are unlikely to be published. We have been very successful at this goal. The table below lists the time in review for each paper.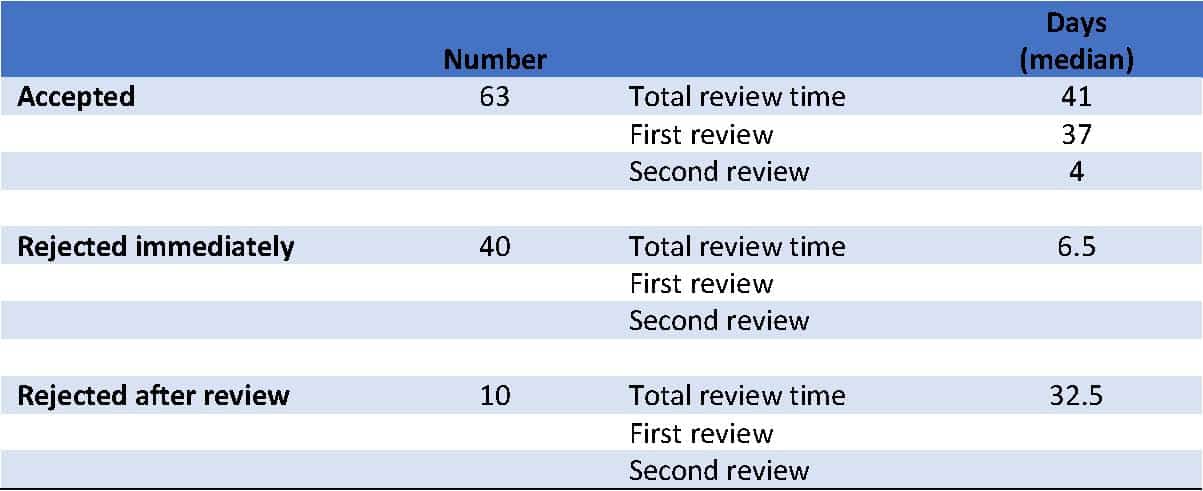 The median time-in-review for accepted papers is 41 days including 37 days for the first review and 4 days for the second review. For papers that are desk rejected, the median review time is less than 1 week; for papers that are reviewed and ultimately rejected, the median review time is 32.5 days. We note that these numbers differ slightly from the office report from SAGE Publications because we removed papers submitted for special issues from these medians. Special issues are important to the journal's mission. However, because papers in a special issue are collected and published simultaneously, the review times tend to be longer.
We continue to work closely with reviewers to convey that our review process is intended to be slightly different from the traditional process: although we seek to review manuscripts thoroughly and with high standards, continuing to turn papers around quickly requires that reviewers complete reviews more efficiently than has become the case at many other journals. To accomplish this, we send potential reviewers a detailed invitation including information on our goals and evaluation criteria. We explain that we will not forward papers to be reviewed if the work is obviously not up to current social science standards of writing or analysis; we prefer short, clear evaluations of papers rather than development review; and we seek clear recommendations to authors and editors. We also explain that we use four criteria for review: accuracy, novelty, interest, and presentation (i.e., quality of writing and organizing). Many reviewers voiced support for this new model, and we were pleased that our reviewers followed these guidelines and offered timely, high-quality, focused reviews.
The online format in which Socius is published means that papers are also not restricted by print page limits or traditional manuscript format. We can, for example, easily accommodate papers that do not follow the traditional structure (introduction, theory, methods, etc.), include multiple color figures, have various linked appendices, etc. We have begun to see submissions that take advantage of this flexibility, and we anticipate that authors will become even more creative as they grow accustomed to the new publication format.
Visibility and Successes. We have continued to attract and publish high-quality papers and have provided both authors and reviewers a straightforward publication experience. We have also continued to work with ASA media relations staff to publicize the journal and published articles. Some notable recent publications include:
We completed one specialized paper collections (i.e., special issues) and are in the process of completing two others. Pamela Paxton and Melanie Hughes served as guest editors on a special collection on women in politics. We issued calls for papers for this special collection, received and reviewed all papers, and published the collection in early 2018.
David Grusky is serving as guest editor on a collection on a contemporary challenge to science: the publication of findings based on fully- or partially-fabricated data.
In addition, we are working with Matthew Salganik and Sara McLanahan on a special issue on a project called the Fragile Families Challenge (http://www.fragilefamilieschallenge.org/). The challenge is a scientific mass collaboration that combines predictive modeling, causal inference, and in-depth interviews to improve the lives of disadvantaged kids in the US. Socius will publish the results of the challenge are published, a strategy that works well with the journal's online format, that will help publicize this important project, and that will bring additional visibility to the journal.
Finally, we have begun a new article format called Data Visualizations. Our goal is to represent the growing field of visual social science and to give authors an opportunity to display important sociological findings in a creative, efficient, visual formation. We recommend that visualization submissions should include two parts. The main article will be a single figure (i.e. something that could be viewed on a single screen/page) and approximately 500 words (excluding caption and references) of expository text that highlights what is interesting and important about the figure. In addition, we recommend that authors should include a supplementary information file that contains details about the data and methods used to generate the figure. Our first visualizations have been reviewed and will appear soon.
Range of Submissions. The topics of manuscripts submitted to Socius has been wide-ranging reflecting the diverse ideas and issues studied by sociologists. We have received papers from nearly all sociological subfields and using various forms of argument and analysis.
Editorial Board, Reviewers, and Staff. We have a strong and diverse editorial board, and the journal has been well-received by reviewers as well allowing us to attract a strong pool here as well. Our board is still predominantly male, and we aim to attract more female board members in future years. We have also made efforts to attract board members from underrepresented groups, and we have had some success; however, we hope to improve the diversity of the board as well. The Sociusstaff is comparatively lean. We have three Editorial Associates, graduate students who give papers a first read and help decide whether to review or desk reject papers. The Associate Editors also help identify reviewers.
Challenges. Of course, we still face important challenges. One challenge we have faced already is ensuring that reviewers are on-board with our efforts to review articles more quickly than has been the case in traditional print publishing. As we noted above, we have been pleased at the initial response of reviewers on this issue. Another important challenge is continuing to attract high quality papers. We have attracted a relatively large number of excellent papers from both highly-visible scholars of all ranks and new professors/graduate students. However, we hope that continuing to do targeted advertising, including of published papers, will encourage authors to submit their highest-quality work to the journal.
Finally, we are hoping to expand comment sections and make it easier for authors to add supplementary material—all things that can be done in different scales and timeframes than is traditional.
 Lisa A. Keiser and James W. Moody, Editors
Teaching Sociology
Teaching Sociology continues to be at the forefront of the scholarship of teaching and learning in sociology. 
Under the editorship of Stephen Sweet and with deputy editor Michele Lee Kozimor-King, Teaching Sociology, Volume 45 (2017) published 57 works, including conversations, articles, notes, book and film reviews. A special issue on "Incorporating Globalization in the Sociology Curriculum" (guest co-editor Patti Giuffre) was published in October 2017.
The Teaching Sociology editorial team continues to work with the editorial team of the Teaching Resources and Innovations Library for Sociology (TRAILS) to create linkages between these two resources. Searches performed in TRAILS identify Teaching Sociology citations. A reciprocal arrangement began in Summer 2017, with citations for new TRAILS resources published in 1-2 page promotions in editions of Teaching Sociology as an ongoing practice.
The editor, deputy editor, and editorial board members also presented at regional and national conferences on prospects and logistics of publishing in the scholarship of teaching and learning in the journal. 
Manuscript Flow. In 2017, 112 manuscripts were received (77 new manuscripts and 35 revised manuscripts). This volume is comparable to most prior years. For new submissions, the manuscript statistics are: 39 percent were rejected without peer review. These rejections were most always accompanied with guidance from the editor to encourage future submission of a manuscript that would have greater prospects of receiving favorable reviews and many authors followed this guidance and submitted new manuscripts. Of those manuscripts sent for review, 2 percent were accepted unconditionally, 32 percent were accepted conditional on minor changes, 36 percent rejected but invited to revise and resubmit, and 30 percent were rejected outright. Most manuscripts (94 percent) that were revised ultimately moved on a path toward publication after the first revision as either accepted or conditionally accepted. These statistics are comparable to recent previous years.
The volume of submissions in 2017 was comparable to 2016. To address lower submissions as identified in the prior years, in 2017 editorial teams presented workshops on how to publish in Teaching Sociology at regional conferences and the editorial board has committed itself to encourage submissions. The editor also contacted presenters of scholarship of teaching and learning at regional and national sociology conferences, encouraging submission to the journal. The editor also worked closely with authors to help them identify strategies of enhancing potential and revised manuscripts. 
Thanks to a wonderful set of reviewers and strong commitment from members of the editorial board, the mean time-to-first decision of manuscripts was 26 days (3.7 weeks). Because many of the revised manuscripts did not need to receive a second round of peer review, the turnaround was even faster, averaging less than one week. Reviewers were almost always assigned and committed within 5-7 days of initial receipt of any manuscript and guided to return their reviews within 4 weeks of assignment. 
Editorial Board. There were 51 members on the editorial board. Sixty-eight percent were female and 24 percent were minorities. Individual members of the editorial board commonly performed 2-3 reviews in 2017.
Stephen Sweet, Editor
teachingsociology@ithaca.edu