Printer Friendly Version Of American Sociological Association: 2012 Annual Meeting Exhibitor, Advertising and Sponsorship Opportunities
http://www.asanet.org/AM2012/exhibits.cfm
Quick Links for Exhibitors
Why Exhibit?
The 2012 Annual Meeting is a great opportunity to expand your sales and brand. Take advantage of this year's greatest sales opportunity, exhibit with ASA in Denver! Connect with over 5,500 leading specialist in sociology in the U.S., Canada, and other countries.
Who Attends ASA Annual Meetings?
Heads of Research Institutes
Academic Deans
Department Chairs
University and College Faculty
Private Consultants
Students (The Future of the Industry)
Meet sociologists who are the front runners in research, higher education and public policy initiatives. The American Sociological Association consists of professional sociologists with backgrounds in academic institutions, applied research and policy settings, government and non-profit agencies as well as many graduate and undergraduates at universities and colleges all over the world.
Traffic Generating Features: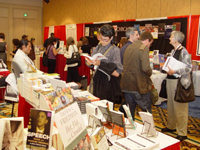 Exhibitors will be able to take advantage of greater networking opportunities at the Exhibit Hall. The Registration Row will host the exhibit hall. The hall will feature:
ASA Bookstore
ASA Cybercafé
ASA Poster Sessions
Eatery
WiFi "hot spots"
Networking Nooks
The exhibit space will also bring a local flair to the Annual Meeting with the Regional Marketplace, a gathering of local small businesses offering unique crafts and goods.
The hall will have seating areas for gathering with colleagues. Look for signs onsite that will identify ASA supported "hot-spots" for WiFi. The WiFi area will feature complimentary access to ASA meeting attendees.

Exhibit Hall Hours
The ASA exhibit hall will be open for four days. Exhibits must be staffed at all times during exhibit Hours.

| Date | Time |
| --- | --- |
| Friday, August 17 | 2:00 PM - 5:30 PM* |
| Saturday, August 18 | 9:00 AM - 4:00 PM |
| Sunday, August 19 | 9:00 AM - 5:00 PM |
| Monday, August 20 | 9:00 AM - 1:00 PM |
*the exhibit and registration areas in the hall both must close at 5:30pm.

Click image to view in online
flipbook format
Booth rental (8'x 10') at the 2012 ASA Annual Meeting is:
1 booth – $1,600
2 booths – $2,600
3 booths – $3,500
Island booth (20' x 20') - $4,600
(Additional booths, $1,100)
Your exhibit fee includes an identifying sign and three (3) exhibitor registrations per booth. Island booths receive twelve (12) exhibitor registrations. A directory of exhibitors with booth locations will be listed on the ASA website and in the printed Final Program. To ensure the promotion of your company in the printed Final Program, be sure to submit your exhibitor contract with payment by June 8, 2012. The Expo Group has been designated as the official drayage and storage company .
Booth Assignments
A booth is assigned by the date of receiving the booth contract. To receive a prime location we recommend that you return the exhibit contract with payment as soon as possible. Full payment of the exhibit fee must accompany the exhibit booth contract; booth assignment will not be made until both the exhibit contract and full payment are received by ASA. Be sure to include your booth preference on the contract. Booth assignments will be sent to exhibitors by May 4, 2012.
Booth Set-up and Dismantling
Booth Set-up:
August 16 - 1:30 pm to 5:00pm
August 17 - 8:00 am to 1:00 pm

Booth Dismantling:
August 20 - 1:00 pm to 5:00 pm
Booth Set-up and Dismantling
Exhibitors may begin booth set-up at the Colorado Convention Center on August 16th from 1:30 pm to 5:00pm. Set-up will continue on August 17th from 8:00 am to 1:00 pm. Absolutely no teardown or dismantling activity will be allowed prior to 1:00 pm on Monday, August 20th. For safety purposes, children under 16 years of age will not be permitted in the exhibit hall during the hours of installation and dismantling. Detailed information will be provided in the Exhibitor Service Kit.
Cancellation
Exhibitors who cancel their exhibit reservation prior to May 11, 2012 will be refunded 50% of the total booth fee. No refunds are available after May 11, 2012.
Please contact Lee C. Morris, ASA's Meetings & Exhibits Coordinator (Exhibits@asanet.org) or (202) 383-9005 ext. 308.