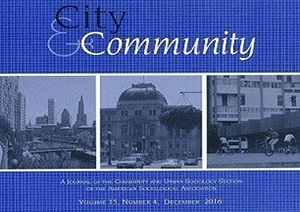 Consider submitting to a special issue of
City and Community
on "Community and Crime," guest edited by Rachael A. Woldoff, Professor of Sociology at West Virginia University,
Urban and community sociologists have long studied the subject of crime and disorder, but the subject of crime is often viewed as a separate specialization area. In fact, urban sociologists' insistence that context matters is especially relevant to the subject of crime right now. In the past few years, current events and social media coverage of them have drawn much attention to the fact that poor and nonwhite places are disproportionately affected by violence, crime, and disorder, as well as by aggressive, and sometimes deadly policing practices. This special issue seeks to unite the urban, community, and crime scholars by calling on original papers that either empirically examine or conceptually extend the crucial connections between community and crime.
Some examples of topics that could explicitly link community context and crime include:
Police use of excessive force
Re-entry of inmates
Social capital and crime
How residents cope with crime
Cultural values or norms regarding crime and disorder
Residential mobility and crime
Neighborhood preferences and crime
Racial/ethnic aspects of community life and crime
All papers will be subject to normal blind review by at least two reviewers. Publication decisions will be made by City and Community editor Lance Freeman in consultation with Rachael A. Woldoff. Deadline for submission: January 9, 2018.
Papers submitted to City and Community. To submit a paper, go to the journal's website (onlinelibrary.wiley.com/journal/10.1111/(ISSN)1540-6040) and follow the regular submission guidelines. Please note in the submission letter that the manuscript is submitted for the planned special issue.
For further information, contact Rachael A. Woldoff at Rachael.woldoff@mail.wvu.edu.