July 17, 2017
ASA and the Minority Fellowship Program (MFP) are pleased to introduce the five new scholars who comprise MFP Cohort 44. The MFP Advisory Panel met this spring in Washington, DC, to review the large and highly competitive pool of applications. Keeping with tradition, MFP Cohort 44 consists of talented PhD candidates with strong and diverse sociological research interests. The new Fellows will officially begin their participation in MFP on August 1, 2017.
The new Fellows will attend the 2017 Annual Meeting in Montréal, where they will take part in a day-long orientation, including a history of MFP and a series of research- and professional development-themed presentations by sociologists (all former Fellows themselves). The new Fellows will also participate in a number of required sessions, events, and workshops, including a breakfast meeting with the members of MFP Cohort 43. They will have the opportunity to network with sociologists who share similar interests. Cohort 44 will be introduced during the MFP Benefit Reception on Sunday, August 13. Those wishing to attend the Benefit Reception can purchase tickets to this event when registering for the Annual Meeting, or at the door.
Since 2010, MFP has been generously supported in full by Sociologists for Women in Society (SWS), Alpha Kappa Delta (AKD), the Midwest Sociological Society (MSS), the Association of Black Sociologists (ABS), the Southwestern Sociological Association (SSA), and ASA Council, with more recent support coming from the Pacific Sociological Association (PSA) and the Southern Sociological Society (SSS). Support for MFP has also come from the ASA Council, with significant gifts made by individual ASA members annually and through the MFP Leadership Campaign in which SWS and the Eastern Sociological Society (ESS) participated as donor organizations.
Jasmón L. Bailey (ABS/Council MFP)
Undergraduate Institution: Texas State University
Graduate Institution: University of South Florida
Jasmón L. Bailey is a doctoral candidate at the University of South Florida. He received his bachelor's and master's degrees from Texas State University. His research interests include the social psychology of race and racism, critical race intersectionality, and social mobility. Jasmón studies the influence of status and identity processes on social interaction. His dissertation, "Palatable Shades of Gender: Status Processes at the Intersections of Race, Appearance, and Team Formation," merges expectation states theory with critical race theory to understand how race and gender influence a person's choice and decision-making when selecting candidates as potential teammates for a problem-solving group task. Moreover, it tests a formal theory of this choice process presented in his co-authored manuscript, "Red, White, Yellow, Blue, All Out but You: An Expectation States Theory of Teammate Selection," published in Social Psychology Quarterly. Additionally, as a proud alumnus of the Kaiser Family Foundation's Barbara Jordan Health Policy Scholars Program, Jasmón finds the synergies between public policy, research, and service-learning to be a rich, engaging, and constant endeavor. To that end, for many social justice events, he speaks on panels where transgressive dialogues on racism invigorate research's potential to transform discriminatory policies, to policies fostering intersectional equality and fairness.
Brittany Pearl Battle (SWS MFP #1)
Undergraduate Institution: University of Delaware|
Graduate Institution: Rutgers University–New Brunswick
Brittany Pearl Battle is a doctoral candidate at Rutgers University-New Brunswick. She earned her bachelor's from University of Delaware and her master's in African American Studies from Temple University. Her research interests include conceptualizations of the family; criminal and family courts; and the construction and collateral consequences of social policies, specifically welfare and child support. She has a chapter in the forthcoming Oxford Handbook of Cognitive Sociology on the relationship between conceptualizations of the family, poverty, and welfare in presidential rhetoric and the evolution of child support policy. Brittany's dissertation examines the socio-organization of the child support system through observations of family court proceedings and in-depth interviews with individuals involved in the system. She is the founder of the Rutgers University Sociology Department's Multi-Generational Mentoring Program, which provides support for undergraduate students interested in pursuing graduate education. In addition, she has worked with BCS & Associates Consulting Firm, a company focused on social justice issues, developing diversity and implicit bias trainings for law enforcement and municipal agencies, city governments, K-12 school districts, and institutions of higher education.
Andrea Gómez Cervantes (SWS MFP #2)
Undergraduate Institution: Grand Valley State University
Graduate Institution: University of Kansas
Andrea Gómez Cervantes is a PhD candidate in the Department of Sociology at the University of Kansas. She earned her BS in sociology with a minor in French at Grand Valley State University. Andrea's research investigates immigrants' integration, immigration policy and social inequality. In her dissertation, she explores intersections of legal status and race/ethnicity via the spillover effects of immigration policy on the everyday lives of mixed-status Indigenous and non-Indigenous Latinx immigrant families in the Midwest. In other collaborative projects, she explores the impacts of the immigration regime on families (including Detention Centers and Alternative to Detention Programs), and undocumented immigrants' paths of integration in rural areas. Andrea also contributed to the creation of "#undoKUmented," a workshop promoting education about the resources needed for undocumented students to succeed in higher education at her university. She has worked as Research Assistant at the Center for Migration Research at the University of Kansas and served as a teaching assistant for various sociology courses in the Department of Sociology. Andrea recently won prestigious awards from her university as well as the National Science Foundation and Ford Foundation.
Rahsaan Mahadeo (MSS MFP)
Undergraduate Institution: University of Rhode Island
Graduate Institution: University of Minnesota-Twin Cities
Rahsaan Mahadeo is a first-generation college student and current PhD candidate in the Department of Sociology at the University of Minnesota-Twin Cities. His dissertation is titled "Transgressive Temporalities: How Youth of Color in Urban Space Make Sense of Time." Drawing on data from in-person interviews and ethnographic methods, his research explores and shows how time is racialized and how race is temporalized. Rahsaan also explores how race, racialization, and racism condition youth's perspectives on time. All of this research is done with a central aim to bring sociology up to speed and up to date with the temporalities of those consistently subjected to academic racism and neglected within time. Rahsaan is a 2013 Ford Foundation Pre-doctoral Fellow. In addition to his studies, Rahsaan is a member of Whose Diversity? and Differences Organized!—collectives of undergraduate and graduate students committed to advancing several demands on behalf of multiple marginalized students. Prior to beginning his graduate studies, Rahsaan spent more than seven years working as a social worker in Providence and Boston. In all of his endeavors--including research, teaching, and service/leadership—Rahsaan demonstrates an enduring commitment to building community and working for justice.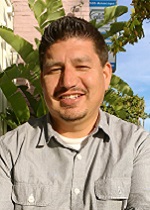 Salvador Rangel (AKD MFP)
Undergraduate Institution: Eastern Kentucky University
Graduate Institution: University of California, Santa Barbara
Salvador Rangel came to the United States as an undocumented immigrant at the age of 10. After various years working in "unskilled" sectors, he made his way into higher education, first taking the GED and then attending community college. Salvador received his BA at Eastern Kentucky University and his MA at the University of Kentucky, both in sociology. He is currently a doctoral candidate at the University of California-Santa Barbara. His previous hands-on experience working in the manufacturing and construction industries informs his current research. His dissertation, "La Jungla: Globalization, Transnational Migrant Labor, and the Meatpacking Industry," combines ethnographic methodology with macro-level analysis using Burawoy's global ethnographic approach. In it, he analyzes changes in labor, migration and race under global capitalism. His teaching and research interests include global political economy, globalization, immigration, class, labor, race, the legal system and the construction of migrant illegality. He has served as an editorial assistant as well as a translator for a bilingual academic journal. Outside the academy, Salvador strives to engage in public sociology by publishing analytical pieces in mass media outlets that make his research accessible to a broader public.