News and Announcements
From time to time the section receives information that may be of special interest to its members. We will post that information here for your convenience.
---
POSTING TO THE WEBSITE
To post information to the ASA-SREM website, please contact: Yasmiyn Irizarry at yasmiyn@utexas.edu
ASA-SREM IS ON FACEBOOK
Thanks to our social media expert, Ryon Cobb, our Facebook page is growing, as is our Twitter page. Thanks to everyone who liked, friended, and followed us to help build our growing social media presence.
SPRING NEWSLETTER
Don't forget to send Remarks updates to Wendy Leo Moore at wlmoore@tamu.edu by July 25.
---
CONGRATULATIONS TO THE 2014 SECTION AWARD RECIPIENTS:
Founder's Award for Scholarship and Service
Rodney Coates, Miami University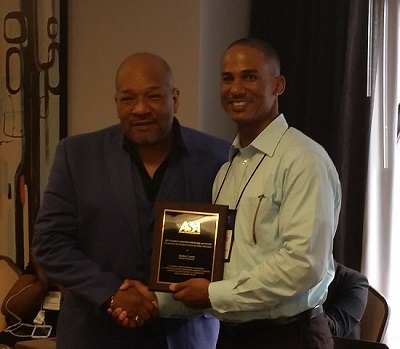 Oliver Cromwell Cox Book Award
Ochoa, Gilda. 2013. Academic Profiling: Latinos, Asian Americans and the Achievement Gap. University of Minnesota Press.
AND
Bliss, Catherine. 2012. Race Decoded: The Genomic Fight for Social Justice. Stanford University Press.
Oliver Cromwell Cox Article Award
Aliya Saperstein & Andrew Penner. 2012. "Racial Fluidity and Inequality in the United States," American Journal of Sociology 118(3): 676-727.
James E. Blackwell Graduate Student Paper Award
Natassia Rodriguez (Stanford University): "The Coexistence of Colorist and Categorical Inequality in Elite Institutions."
Honorable Mention: Hyeyoung Kwon (University of Southern California): ""Doing" American from an Outsider-Within Position: Korean and Mexican Language Brokers."
Joe R. Feagin Award for Best Undergraduate Paper
Offered Every Other Year
Distinguished Early Career Award
Matthew Hughey, University of Connecticut
Honorable Mentions: Helen Morrow and Kevin J.A. Thomas
---
SREM Reception at Slide (co-sponsored with the Section on Latino/a Sociology)
A special thanks to everyone who joined us for the Section on Racial and Ethnic Minorities and Section on Latino/a Sociology joint reception!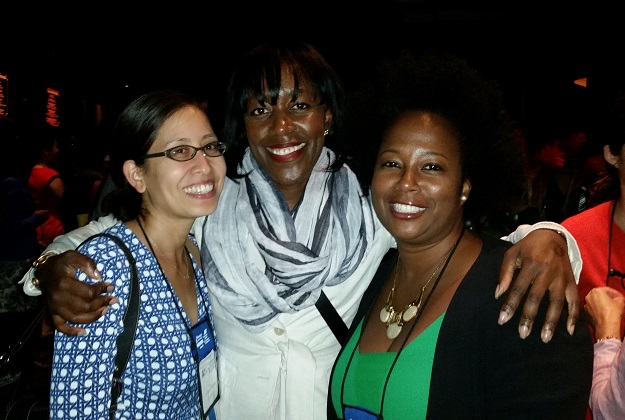 ---
SREM Ad-Hoc Mentoring Committee
The SREM ad-hoc mentoring committee has identified several needs among our membership and we have developed a blog to begin to address some of those needs.
Please check out our new SREM Mentoring blog: http://srem-mentoring.blogspot.com and the About page: http://srem-mentoring.blogspot.com/p/about-srem-mentoring.html
This blog will serve three primary purposes:
Information: An online hub for information for SREM members related to professional success.
Questions: You will be able to ask questions on this blog and a volunteer will answer them.
Safe Space: SREM will host a safe space where you can discuss issues with fellow sociologists who also research and teach in your area.
Call for Posts
We still have several topics that we are seeking posts for. Those topics are identified on this blog page: http://srem-mentoring.blogspot.com/p/about-srem-mentoring.html
They also are listed below:
How to secure funding for research
How to plan large research projects
How to network at conferences
How to deal with stress
How to publish articles
How to promote your work
We are looking for 500 to 1000 word blog posts with links to outside information to be posted on the SREM-Mentoring blog. Please contact Tanya Golash-Boza (SREM Chair) at tgolash-boza@ucmerced.edu if you are interested in volunteering a post.
Call for Questions
If you are a member of SREM and have a question, you can submit your question and we will do our best to find a mentor to answer your question.
Here's how it works: You send an email to our Mentor/Mentee co-ordinator with a specific question or request. Our Mentor/Mentee co-ordinator finds a volunteer to answer your question or fill your request. The volunteer contacts you and helps you out.
Let's say you would like help finding a funding source for a qualitative research project. You would send an email to our Mentor/Mentee co-ordinator that explains your request. Alternatively, you might need help responding to a request for a Revise and Resubmit. Or, perhaps you need advice on formulating a tenure statement. You might be having trouble coming up with a dissertation topic or be stuck in terms of studying for your comprehensive exams. Whatever your issue is, we can help you find a mentor to resolve it.
If you would like to use this service, please send an email to: sremblogspot@gmail.com. Be sure to include "Mentoring Request" in the subject line. Otherwise, your email may never be read! We will try and keep the process as anonymous as possible. The only people who will know who you are are the Mentoring/Mentee co-ordinator and the volunteer mentor. You can also make specific requests, such as "I don't want a mentor who works at my institution."
Please submit  mentoring requests  to our amazing team of mentors.
---
NEW PUBLICATIONS!
Articles
Aranda, Elizabeth and Elizabeth Vaquera. "Lawmakers can give Dreamers Chance at Higher-Ed Success." Orlando Sentinel, May 1, 2014.
Benjamin, Ruha. 2014. Race for Cures: Rethinking the Racial Logics of 'Trust' in Bi-omedicine" http://onlinelibrary.wiley.com/doi/10.1111/soc4.12167/abstract.
Embrick, David G., and Kasey Henricks. 2014. "Discursive Colorlines at Work: How Epithets and Stereotypes are Racially Unequal." Symbolic Interaction, Vol. 36 (2): 197-215."
Harvey Wingfield, Adia. (2014.) "Crossing the Color Line: Black Professional Men's Development of Interracial Social Networks." Societies 4: 240-255.
Harvey Wingfield, Adia and Renee Skeete Alston. (2014.) "Maintaining Hierarchies in Predominantly White Organizations: A Theory of Racial Tasks." American Behavioral Scientist 58: 274-287.
Jack, Anthony Abraham. 2014. "Culture Shock Revisited: The Social and Cultural Contingencies to Class Marginality." Sociological Forum 29(2):453–75.
Jensen, Katherine. 2014. "Black brazil never slept." Contexts 13(2):44-49.
Kesler, C. and Schwartzman, L. F. 2014. "From Multiracial Subjects to Multicultural Citizens: Social Stratification and Ethnic and Racial Classification among Children of Immigrants in the United Kingdom." International Migration Review. doi: 10.1111/imre.12101
Kwon, Hyeyoung. 2014. "The Hidden Injury of Class in Korean American Language Brokers' Lives." Childhood 21(1):56-71.
Terriquez, Veronica and Hyeyoung Kwon. 2014. "Intergenerational Family Relations, Civic Organizations, and the Political Socialization of Second Generation Immigrant Youth."Journal of Ethnic and Migration Studies. (Available via OnlineFirst).
Alba, Richard, Tomás R. Jiménez, and Helen B. Marrow. Forthcoming (October 2013). "Mexican Americans as a Paradigm for Contemporary Intra-Group Heterogeneity." Ethnic & Racial Studies. Published online first doi:10.1080/01419870.2013.786111. 
Cardell K. Jacobson and Darron T. Smith, 2013. "Emotion Work in Black and White: Transracial Adoption and Process of Racial Socialization." Pp. 43-75 in Patricia Neff Claster and Sampson Lee Blair (eds.), Visions of the 21st Structures and Identities. Contemporary Perspectives in Family Research. Emerald Group Publishing. 
Croll, Paul R. 2013. "Explanations for Racial Disadvantage and Racial Advantage: Beliefs about Both Sides of Inequality in America." Ethnic and Racial Studies 36(1): 47-74. 
Embrick, David G. and Kasey Henricks. 2013. "Discursive Colorlines at Work: How Epithets and Stereotypes are Racially Unequal." Symbolic Interaction 36(2):197-215. 
Ghoshal, Raj. 2013. "Transforming Collective Memory: Mnemonic Opportunity Structures and the Outcomes of Racial Violence Memory Movements." Theory and Society 42(4): 329-350. http://link.springer.com/article/10.1007%2Fs11186-013-9197-9.
Hall, Suzanne M. (2013) "The politics of belonging, Identities: Global Studies in Culture and Power, Special Issue on Settling Differences in a Land of Strangers," Identities: Global Studies in Culture and Power 20(1), pp. 46-53. 
Henricks, Kasey. Forthcoming. "Who Plays? Who Pays?: Education Finance Policy that Supplants Tax Burdens along Lines of Race and Class." Race Ethnicity and Education.
Henricks, Kasey, Bill Byrnes, and Victoria Brockett. 2013. "Celebrating a Return to Jim Crow?: A Reflexive Analysis and Methodological Query on Measuring Segregation." Critical Sociology doi:10.1177/0896920512471835: 1-21. 
Kim, Nadia Y. 2013. "Citizenship on the Margins: A Critique of Scholarship on Marginalized Women and Community Activism." Sociology Compass 7(6):459-70 (June). 
Marrow, Helen B. 2013. "In Ireland "Latin Americans are Kind of Cool?: Evaluating a National Context of Reception with a Transnational Lens." Ethnicities 13(5): 645-66. 
Marrow, Helen B. 2013. "Assimilation in New Destinations." Dædalus: The Journal of the American Academy of Arts & Sciences (Special Themed Issue entitled "Immigration and the Future of America," edited by Douglas S. Massey) 142(3): 107-22. 
Marrow, Helen B. 2013. "Undocumented Residents in the United States." In Encyclopedia of Global Human Migration, edited by Immanuel Ness. New York: Wiley-Blackwell. 
Marrow, Helen B. 2013. "Immigration Reform: Four Reasons a Path to Citizenship is a No Brainer." Raleigh News and Observer, July 10. 
Marrow, Helen B. and Tomás R. Jiménez. 2013. "Mexican American Mobility: Assimilation Fears Should Not Hinder Immigration Reform." Los Angeles Times, July 2. 
Ghoshal, Raj, Cameron Lippard, Vanesa Ribas, and Ken Muir. 2013. "Beyond Bigotry: Teaching about Unconscious Prejudice" Teaching Sociology 41(2): 130-143.
Ray, Manashi. 2013. "The Global Circulation of Skill and Capital - Pathways of return migration of Indian Entrepreneurs from the United States to India", in Diaspora Engagement and Development in South Asia, eds. Tan Tai Yong and Md Mizanur Rahman, Palgrave Macmillan. 
Roth, Wendy and Nadia Kim. 2013. "Relocating Prejudice: A Transnational Approach to Understanding Immigrants? Racial Attitudes." International Migration Review 47(2):330-73. 
Richards, Bedelia Nicola (2013): "Ethnic identity on display: West Indian youth and the creation of ethnic boundaries in high school," Ethnic and Racial Studies, DOI:10.1080/01419870.2012.748212
Sun, Ken Chih-Yan. 2013. "Rethinking Migrant Families From a Transnational Perspective: Experiences of Parents and Their Children." Sociology Compass 7(6): 445-458. 
Sun, Ken Chih-Yan and Wendy Cadge. 2013. "How Do Organizations Respond to New Immigrants? Comparing Two New England Cities." Journal of Immigrant and Refugee Studies 11(2): 157-177.
Books
Race in Transnational and Transracial Adoption, Palgrave McMillan, 2014
Edited By: Vilna Bashi Treitler
When parents form families by reaching across social barriers (the color line, or the boundaries between 'First World' and 'Third World' nations) to adopt children, where and how does race enter the adoption process? How do agen-cies, parents, and the adopted children themselves deal with issues of differ-ence in adoption? This volume engages writers from both sides of the Atlan-tic to take a close look at race in transnational and transracial adoption. The contributors tackle questions of how adoption agencies engage race online; how parents un-derstand race as a factor in raising their adopted children; how culture camps engage with par-ents and children about racial issues; and how social policy shapes the racial aspects of adop-tion, for better or worse.
The Causes of Structural Unemployment: Four Factors that Keep People from the Jobs They Deserve, Polity Press, 2014
By: Thomas Janoski, David Luke, and Christopher Oliver
There is a specter haunting advanced industrial countries: structural unem-ployment. Recent years have seen growing concern over declining jobs, and though corporate profits have picked up after the Great Recession of 2008, jobs have not. It is possible that "jobless recoveries" could become a perma-nent feature of Western economies. This illuminating book focuses on the employment futures of advanced industrial countries, providing readers with the sociological imagination to appreciate the bigger picture of where workers fit in the new international divi-sion of labor. The authors piece together a puzzle that reveals deep structural forces underly-ing unemployment: skills mismatches caused by a shift from manufacturing to service jobs; increased offshoring in search of lower wages; the rise of advanced communication and auto-mated technologies; and the growing financialization of the global economy that aggravates all of these factors.
The Myth of the Model Minority, Second Edition, Paradigm, 2014
By: Rosalind S. Chou and Joe R. Feagin
The second edition of this popular book adds important new research on how racial stereotyping is gendered and sexualized. New interviews show that Asian American men feel emasculated in America's male hierarchy. Women recount their experiences of being exoticized, subtly and otherwise, as sexual objects. The new data reveal how race, gender, and sexuality intersect in the lives of Asian Americans. The text retains all the features of the renowned first edition, which offered the first in-depth exploration of how Asian Americans experience and cope with everyday racism. The book depicts the "double consciousness" of many Asian Americans—experiencing racism but feeling the pressures to conform to popular images of their group as America's highly achieving "model minority."
Routledge International Handbook on Race, Class, and Gender, Routledge, 2014
By: Shirley A. Jackson
The Routledge International Handbook of Race, Class, and Gen-der chronicles the development, growth, history, impact, and future direc-tion of race, gender, and class studies from a multidisciplinary perspective. The research in this subfield has been wide-ranging, including works in so-ciology, gender studies, anthropology, political science, social policy, histo-ry, and public health. As a result, the interdisciplinary nature of race, gender, and class and its ability to reach a large audience has been part of its ap-peal. Contributors to the book include David Embrick and Kasey Henricks, Cliff Leek and Mi-chael Kimmel, Elizabeth (Almquist) Esterchild and Ray L. Darville, Mangala Subramaniam and Preethi Krishnan Ramaswamy, Stanley Thangaraj, Shobha Hamal Gurung, and many oth-ers.
Getting Real About Race: Hoodies, Mascots, Model Minorities, and Other Conversations, Sage, 2014
Edited By: Stephanie M. McClure and Cherise A. Harris
The book is an edited collection of short essays that address the most com-mon misconceptions about race held by students (and by many in the United States, in general)—it is a "one-stop shopping" reader on the racial topics most often pondered by students and derived from their interests and con-cerns. There is no existing reader that summarizes the research across a range of topics in a consistent, easily accessible format and considers the evidence against par-ticular racial myths in the language that students themselves use. With contributions from Mat-thew W. Hughey, Rashawn Ray, Min Zhou, Wendy Leo Moore, and many others.
Academic Profiling: Latinos, Asian Americans, and the Achievement Gap. University of Minnesota Press, 2013 By: Gilda L Ochoa 
Today the achievement gap is hotly debated among pundits, politicians, and educators. In particular this conversation often focuses on the two fastest-growing demographic groups in the United States: Asian Americans and Latinos. Academic Profiling examines this so-called gap by going directly to the source. candid and at times heart-wrenching detail, the students tell stories of encouragement and neglect on their paths to graduation. Separated by unequal middle schools and curriculum tracking, they are divided by race, class, and gender. While those channeled into an International Baccalaureate Program boast about Socratic classes and stress-release sessions, students left out of such programs commonly describe uninspired teaching and inaccessible counseling. Students unequally labeled encounter differential policing and assumptions based on their abilities—disparities compounded by the growth in the private tutoring industry that favors the already economically privileged.
Race and Immigration. Polity, 2013.
By: Nazli Kibria , Cara Bowman and Megan O'Leary 
Immigration has long shaped US society in fundamental ways. With Latinos recently surpassing African Americans as the largest minority group in the US, attention has been focused on the important implications of immigration for the character and role of race in US life, including patterns of racial inequality and racial identity. This insightful new book offers a fresh perspective on immigration and its part in shaping the racial landscape of the US today. Moving away from one-dimensional views of this relationship, it emphasizes the dynamic and mutually formative interactions of race and immigration. Drawing on a wide range of studies, it explores key aspects of the immigrant experience, such as the history of immigration laws, the formation of immigrant occupational niches, and developments of immigrant identity and community. Specific topics covered include: the perceived crisis of unauthorized immigration; the growth of an immigrant rights movement; the role of immigrant labor in the elder care industry; the racial strategies of professional immigrants; and the formation of pan-ethnic Latino identities.
Stranger and Neighbors: Multiculturalism, Conflict, and Community in America. Cambridge University Press, 2013.
By: Andrea M. Voyer
"The empirical object of Strangers and Neighbors is the 'diversity trouble' that arose in a small New England town when an influx of Somali immigrants substantially altered its cultural and racial fabric. But its underlying theoretical object is the larger picture of challenges facing all Americans in an age of growing ethnic diversity. This thoughtful and beautifully written work will speak powerfully to race scholars, students of immigration, cultural sociologists, and specialists in urban studies. But its penetrating insights into the complexities and ambiguities of multiculturalism also will contribute importantly to our broader public debate regarding what incorporation means and how best to achieve it." --Mustafa Emirbayer, University of Wisconsin at Madison.
Kinship: Family Reunification and the Meaning of Race and Nation in American Immigration. Russell Sage Foundation, 2013
By: Catherine Lee 
Drawing from a rich set of archival sources, Fictive Kinship shows that even the most draconian anti-immigrant laws, such as the Chinese Exclusion Act of 1882, contained provisions for family unity, albeit for a limited class of immigrants. Arguments for uniting families separated by World War II and the Korean War also shaped immigration debates and the policies that led to the landmark 1965 Immigration Act. Lee argues that debating the contours of family offers a ready set of symbols and meanings to frame national identity and to define who counts as "one of us." Talk about family, however, does not inevitably lead to more liberal immigration policies. Fictive Kinship shows that the centrality of family unity in the immigration discourse often limits the discussion about the goals, functions and roles of immigration and prevents a broader definition of American identity.
Cabin Pressure: African American Pilots, Flight Attendants, and Emotional Labor. Rowman & Littlefield. 2013
By: Louwanda Evans
From African American pilots being asked to carry people's luggage to patrons refusing drinks from African American flight attendants, Cabin Pressure demonstrates that racism is still very much alive in the friendly skies. Author Louwanda Evans draws on provocative interviews with African Americans in the flight industry to examine the emotional labor involved in a business that offers occupational prestige, but also a history of the systemic exclusion of people of color.
The Wrong Kind of Different: Challenging the Meaning of Diversity in American Classrooms. Teachers College Press. 2013
By: Antonia Randolph
How can multiculturalism go wrong? Through extensive interviews conducted in a large Midwestern district, Antonia Randolph explores how teachers perceive students from diverse racial and ethnic backgrounds and the unintended consequences of a kind of colorblind multiculturalism. She unearths a hierarchy of acceptance and legitimacy that excludes most poor Black students and favors certain immigrant minorities. In addition, Randolph discovers how some teachers distinguish their support for certain forms of student diversity from curriculum diversity, such as accommodating bilingual education, which they find burdensome.